Back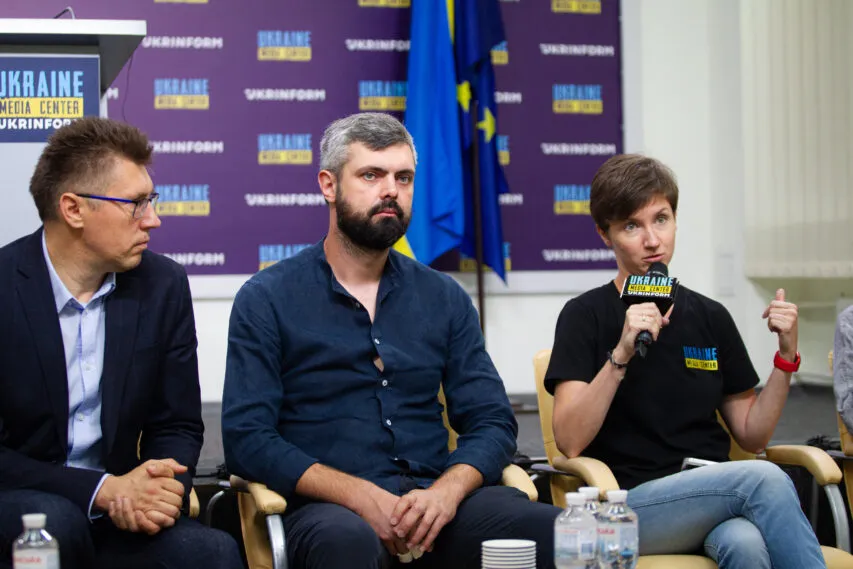 August 31, 2023, 15:36
Working together to myth-bust Russian propaganda and reveal the truth about 'ruscism': Media Center Ukraine and the Ukrainian Institute of National Remembrance have created an educational project
The Media Center Ukraine and the Ukrainian Institute of National Remembrance have created an educational project that will help to bring the context of this war to the knowledge of foreign and domestic audiences in short-form video content format to debunk myths about Ukraine's history and uncover the truth about 'ruscism.'
During the presentation at the Media Center Ukraine – Ukrinform, the project's authors spoke about its goals, objectives, and components.
During the presentation of the project, Taras Shevchenko, Deputy Minister of Culture and Information Policy of Ukraine for European Integration, emphasized that dispelling the myths and stating Ukraine's position have led to tangible changes in people's minds and attitudes.
However, he noted, the topic of Russian propaganda narratives and the Russian approach to history is so deeply rooted, including in the Western university education system, that we are only on the path of change. Therefore, Taras Shevchenko is convinced that such projects are critical both in the context of 'ruscism' as a modern phenomenon and in historical aspects.
"Both in the context of museums, paintings, definitions in art, and regarding the approaches to history in general, including both at universities, in the professional community, and educational materials for a wider audience, such as the materials presented today. This is all a joint effort to myth-bust Russian propaganda, to counter Russian narratives with our information and evidence-based materials for educational purposes," explained Taras Shevchenko.
In her turn, Svitlana Chepurenko, communications manager at Media Center Ukraine, reminded that on May 2, 2023, Ukraine officially recognized that 'ruscism' is Russia's state ideology. And now, she emphasized, the common task is to work to ensure this is recognized internationally.
"We hope these videos will clarify for the international audience what 'ruscism' really is and what horrors it brings. We also urge our partner friends to spread the messages to international audiences first and foremost. We hope this will become part of our fight against 'ruscism', part of the fight for truth. We believe that the truth will prevail," she added.
At the same time, Anton Drobovych, Head of the Ukrainian Institute of National Remembrance, stressed that today, we need not only strategic initiative and victories on the battlefield but also strategic and high-quality products here, in information ware, the war for truth.
"Let's not forget that Russia could not find a single real reason for this war and invented false historical reasons as a flimsy excuse. It believed in its lies to such an extent that it has been spreading it since at least the time of Catherine the Great that it decided to make it the basis for war. Therefore, history, memory, and historical truth are a large part of the information warfare," he added.
It should be noted that the educational project of the Media Center Ukraine and the Ukrainian Institute of National Memory consists of two series of videos.
The first series is about debunking historical myths about Ukraine. It will include 12 videos and will focus on Ukraine's path to independence, dispel myths about the Ukrainian Insurgent Army-Organisation of Ukrainian Nationalists, bust myths about the 'brotherly nations' that Russia and Ukraine allegedly are, talk about the history of the Cossacks, and reveal many other aspects.
The second series raises the 'ruscism' topic and will consist of ten videos. In particular, it will reveal the essence of 'ruscism' and its components, such as genocide, cult of personality, etc.
Read more: https://mediacenter.org.ua/news