Back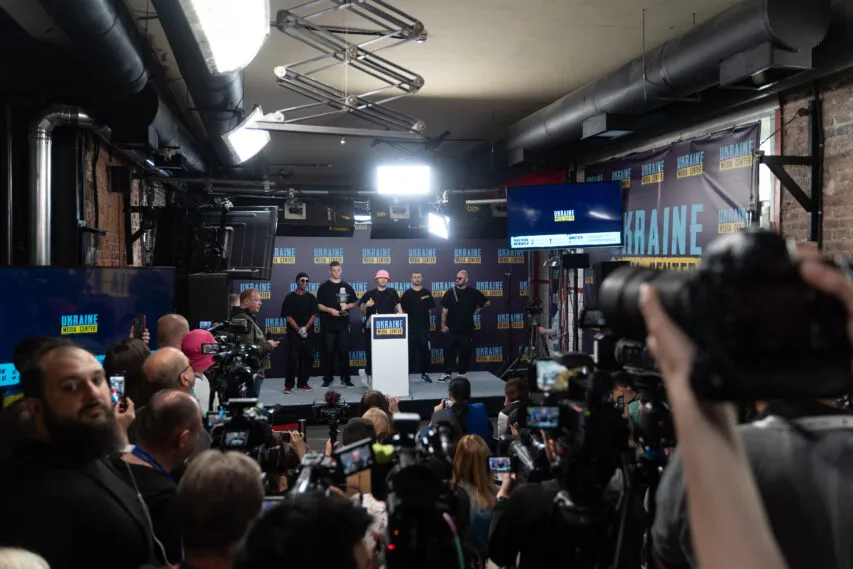 May 17, 2022, 13:00
"What Happens to the Ukrainians Is More Important for Us Than a Trophy or Victory," Kalush Orchestra Says about Their Call to Save Mariupol
Kalush Orchestra band, winners of the Eurovision Song Contest 2022, sang for the public in Lviv's Rynok Square immediately on his return to Ukraine. Musicians also gave their first press conference after coming back from Turin in Media Center Ukraine. The most interesting thoughts of Oleh Psiuk, Kalush Orchestra's frontman, follow below.
Venue for Eurovision Song Contest 2023:
"Many countries are willing to organize the Eurovision Song Contest if Ukraine cannot do so. It is a kind gesture, and we are grateful to them. But we hope we will organize next year's Eurovision in Ukraine that is whole, rebuilt, and happy."
Ukrainian Jury's points for Krystian Ochman from Poland:
"I feel uneasy about the situation with Poland. I like Ochman's song a lot. It is on my personal Top 5 list. I don't know all the jury voting details, but I do hope that our Polish friends will not hold a grudge against anyone.»
The stock of pink hats:
"I have several hats like the one I'm wearing now because they don't make them anymore, so it is hard to find hats like that one."
Forthcoming tours:
"We plan to tour Europe to raise money for the Army and charities at each event. We will announce tour venues soon."
Mom Stefania:
"She stayed awake till 3 AM, and she was very emotional. And now she's happy. A song I dedicated to my mom won the Eurovision Song Contest and brought a victory for Ukraine. What other emotions would you expect?"
Future of the Ukrainian music:
"We aim to make Ukrainian music popular worldwide, not only in Ukraine. The Eurovision Song Contest was a good platform to present our culture. We would like to collaborate with international celebrities to present our music and songs in the West. My favorite is Eminem, and I do hope we'll have a joint song project.
His call to save Mariupol and Azovstal:
"200 million people are watching Eurovision Song Contest finals. I would reproach myself much more if I didn't do that than if I did and were disqualified. The lives of the Ukrainians are more important to us than a trophy or victory. It wouldn't be cool if we were disqualified, but Ukraine would have supported our choice.
Read more: https://mediacenter.org.ua/news