Back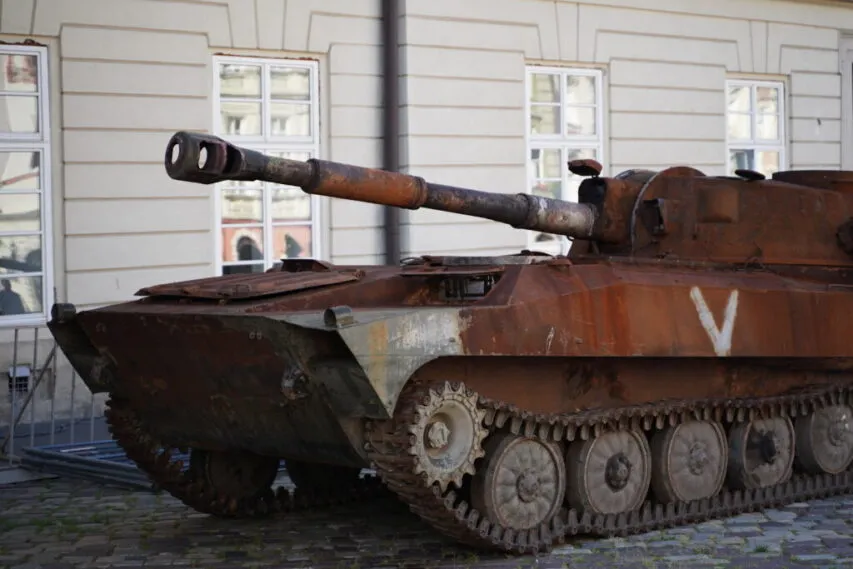 August 11, 2022, 17:08
"We shall overcome, we shall triumph!" exhibition of russian military equipment destroyed by Ukraine's Armed Forces opens in Lviv
On August 11 "We shall overcome, we shall triumph!" exhibition of the russian military equipment destroyed by Ukraine's Armed Forces opened at Rynok Square in Lviv. The exhibition features a T-72 tank, a Buk air defense system and even missiles fired by russian invaders on Ukrainian cities.
"We shall overcome, we shall triumph!" exhibition refutes the myth about the invincibility of the "second" army of the world, Maksym Kozytskyy, Head of Lviv Oblast Military Administration said at the opening of the exhibition.
"Many people ask what this exhibition is for or why see it. It is for us to clearly understand that the war is going on in our country and we are all united. And for no one to think that the war is somewhere far away. For everyone to see this reminder every day. On the other hand, it dispels the myth about the invincibility of some 2nd or 5th army of the world. The reality is nothing like that. The Armed Forces of Ukraine are capable of winning," — Maksym Kozytskyy said.
"Every tank, every type of weapon that will enter our territory must be destroyed. And today we see this beautiful example, so I'm grateful to Ukraine's Armed Forces, to all honorable ministers, generals, you, the Head of the Oblast Military Administration, who is here today with us, and people's deputies. Today we are all together and it is in unity that our strength lies," — Lviv Mayor Andrii Sadovyi said.
Exhibits of destroyed russian military equipment have already been on display in European cities. In Lviv, the exhibition will last until the end of August.
"When we first saw this equipment in large numbers after the occupation in those cities and villages liberated by our military, we understood that the whole of Ukraine must see it, The whole of Europe must see it, the whole world must see what Ukraine is dealing with today," — Meri Akopyan, Deputy Minister of Internal Affairs of Ukraine said.
"Why are such exhibitions held in Europe? To show the European states that live in peace now that Ukraine has actually become the shield that provides a peaceful sky for them, to show European countries what a horde of russian equipment Ukraine holds back every day," — Daniil Menshykov, Acting Head of Lviv Customs Office said.
The event is organized by the Ministry of Internal Affairs of Ukraine, the Ministry of Defense of Ukraine, Lviv Oblast Military Administration, Lviv City Council, the State Customs Service of Ukraine and Media Center Ukraine.
Read more: https://mediacenter.org.ua/news