Back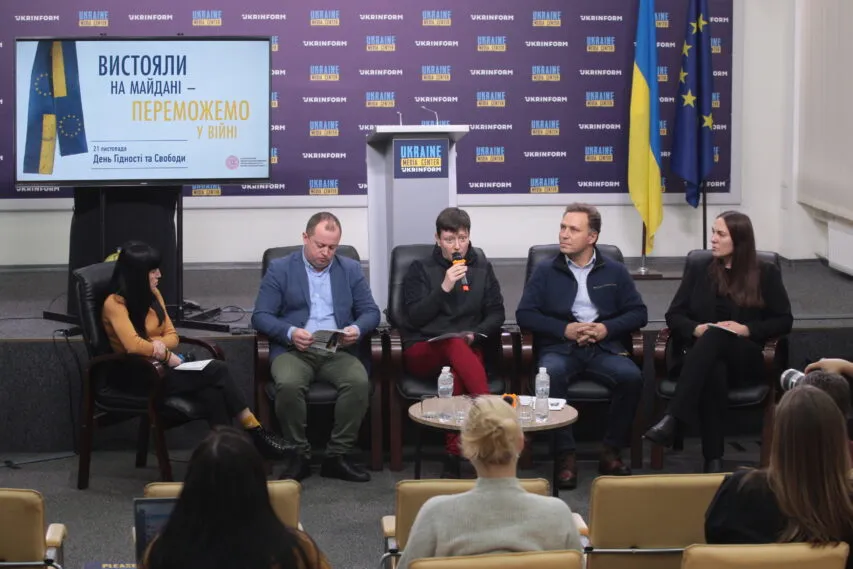 Media Center Ukraine — Ukrinform
November 14, 2022, 15:15
"We persevered on the Maidan — we will win the war!" Media Center Ukraine — Ukrinform announces the plan of events for the Day of Dignity and Freedom
"The Revolution of Dignity is the first victorious battle of this war" is the key message of this year's celebration of the Day of Dignity and Freedom, and the slogan is "We persevered on the Maidan — we will win the war!" This was discussed during a press conference at Media Center Ukraine — Ukrinform, where the participants announced the plan of events for the Day of Dignity and Freedom. Despite the war, various events will take place throughout the week.
"Here we have everything that we would do in peacetime, maybe some measures have been slightly transformed, but not very much, and almost the full spectrum is still there. We can see public discussions here, we have a scientific forum, exhibition projects," — Kateryna Chuieva, Deputy Minister of Culture and Information Policy of Ukraine.
You can find out more about the program of events here.
In addition, speakers at the press conference specified whether there will be any events where it will be possible to talk to the participants of the revolutions in Ukraine.
"There will be at least two occasions, where we'll create an opportunity to meet with the participants of the events on the Ukrainian Maidans. At 3:00 PM, on November 15, "Maidan, War, Freedom: the Evolution of Public Resistance" online public discussion will take place… And of course, at 2:00 PM, on November 21, there will be a panel discussion entitled "Three Peaceful Revolutions: Building Defense Capabilities in War," which will be moderated by Oleksandr Doniy," — Ihor Poshyvailo, General Director at the National Memorial Complex of Heroes of the Heavenly Hundred – Museum of the Revolution of Dignity said.
Read more: https://mediacenter.org.ua/news