Back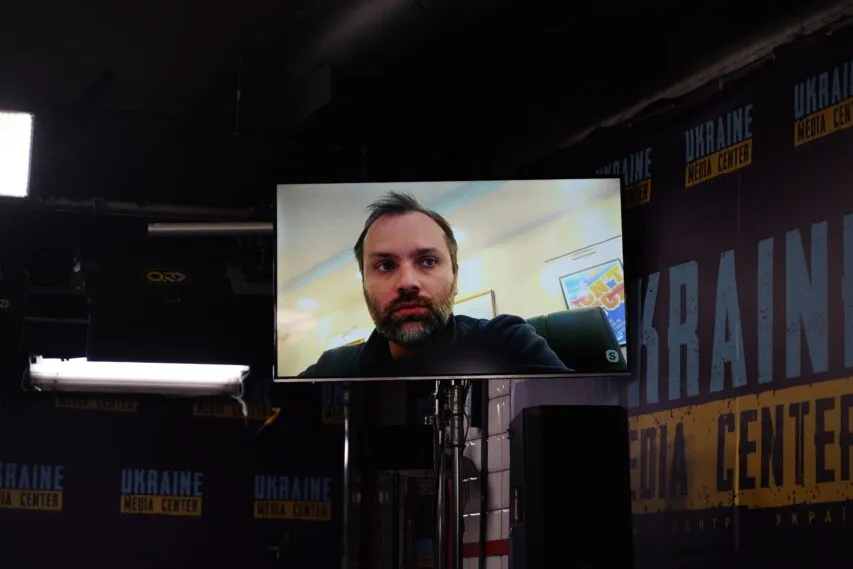 April 18, 2022, 15:57
"We Keep Improving Railway Station Safety Protocols," Pertsovskyi, Head of Ukrzaliznytsia's Passenger Transportation Segment
Seven trains in Lviv Oblast had to be rerouted after the missile attack on the city this morning. Passengers who had been unable to reach their stations due to rerouting were delivered by cars. Oleksandr Pertsovskyi, Head of Ukrzaliznytsia's Passenger Transportation Segment, presented the situation during his briefing at Ukraine Media Center. According to him, it has not been confirmed that the russians targeted the railway with their attack. However, trains had to be rerouted around certain stations due to the damaged catenary system. Currently, the consequences of attacks are being eliminated, and trains in Lviv Oblast operate as usual.
Oleksandr Pertsovskyi said that all passengers from Lviv's Railway Station were moved to the bomb shelter during the missile attack, while the trains were stopped. These procedures are required by the passenger safety protocols that Ukrzaliznytsia keeps improving.
"We need to minimize risks—that is why we keep inspecting the bomb shelters at railway stations. We must make sure they are safe and that there are water, food, and communication lines. In addition, we are working on processes to help minimize the accumulation of people in railway stations. For instance, people in Lviv wait for their trains underground and go upstairs once the train is at the platform. After that, the train leaves immediately," Oleksandr Pertsovskyi says.
The UZ representative added that the enemy is focused on transport infrastructure. For this reason, the company is seeking a balance between safety and its ability to operate.
"We can't stop; otherwise, the country will. So please be reasonable, and if we ask you to go to the shelter, please do so. It saves lives," Oleksandr Pertsovskyi explains.
Ukraine Media Center. Follow the news via the links below:
Website: https://mediacenter.org.ua/
Twitter: https://twitter.com/CenterUkraine
Facebook: https://www.facebook.com/UkraineMediaCenter/
YouTube: https://bit.ly/3whbxSm 
Telegram: https://t.me/lvivmediacente