Back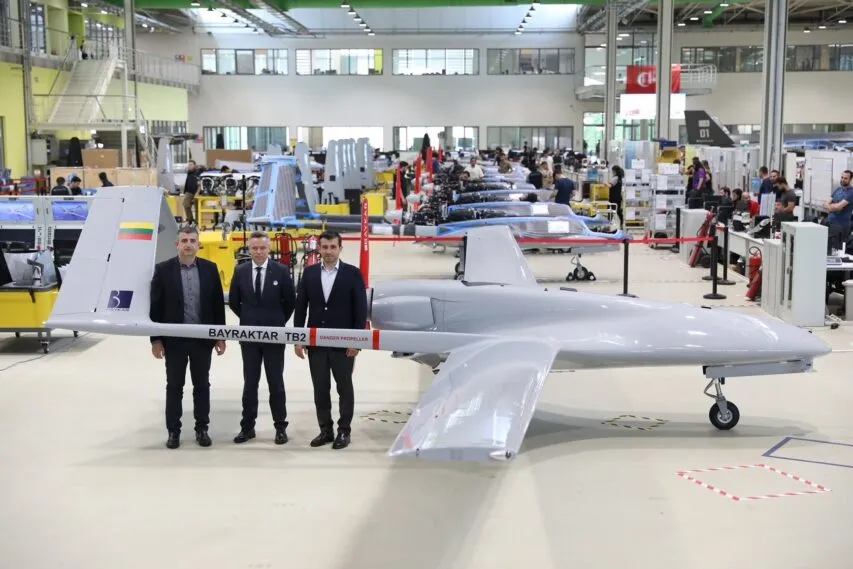 June 3, 2022, 14:24
We have proved that ordinary people can arm Ukraine while politicians argue and hesitate — Lithuanian TV presenter on raising money for Bayraktar for Ukraine
Lithuania raised 6 million euros in three days to buy a Bayraktar combat drone for Ukraine. The fundraising was started by the Armed Forces of Ukraine by TV presenter Andrius Tapinas. Having enlisted the help of the Lithuanian Ministry of Defense, he reached an agreement to purchase the drone. However, the supplier company decided not to charge Lithuania for the drone that will be further transferred to Ukraine.
Fundraising initiator Andrius Tapinas spoke about Lithuanian solidarity, cooperation with Türkiye and further plans to help Ukraine during his briefing at Media Center Ukraine. The following is direct speech.
"Lithuania is not tired of helping Ukraine"
Everybody is speaking of how tired we are of supporting Ukraine during these hundred days of war. This is bullshit. We wanted to prove that at least the nation of Lithuania is not tired of supporting Ukraine by providing the money in record time. The idea (of buying Bayraktar) clicked and it went viral on social networks.
We were amazed by the solidarity of ordinary citizens of Lithuania. The population of less than 3 million managed to raise almost 6 million euros in just three and a half days. The average donation from the Lithuanians was 50-60 euros. There were also 3-4 large donations of about 10,000 euros. The largest donation was 30,000 euros. That is, the money wasn't donated by Lithuanian oligarchs, but by ordinary people. I expected 3 weeks, we got it done in three and a half days. I am ecstatically happy with the results and help that we are providing.
"The gift from Türkiye doubles it up"
The gift from Türkiye, as poker players say, doubles it up. The Turkish side decided that they are not going to take the money, but instead they are going to give us a fully equipped Bayraktar drone. It's a gift to Lithuania, and obviously Lithuania will immediately give it to Ukraine after equipping it with weapons. We will transfer 1.5 million euros to the Ministry of Defense of Lithuania for them to buy necessary modern weapons to equip our Bayraktar and prepare if for combat in the skies of Ukraine.
We still have 4.4 million euros left for other assistance to Ukraine: both defensive and logistical. Now my primary task will be to find a way to spend this money most efficiently. I'm going to consult the Ministries of Defense in both Lithuania and Ukraine. We are going to make decisions on how to spend this money, and then we will give a full report to all the Lithuanians who donated.
"A tiny Lithuania showed that there is a way for common people to arm Ukraine while politicians are mulling and don't want to make a risky decision"
Now I am receiving quite a lot of feedback from other countries in the world, who are saying "Can we do it?" My message to the people is if a tiny Lithuania has succeeded, imagine what the mighty people of France, Germany, the UK and Canada could do. We showed there is a way for common people to arm Ukraine while the politicians are mulling and don't want to make a risky decision.
"Named drone with the flags of Ukraine and Lithuania"
We have agreed with the Turkish side to put the flags of Lithuania and Ukraine on this drone. And just an hour ago, a national poll began to choose a name for our drone. The Turkish agreed to put that name on the drone. It will be a named drone that will be a symbol of eternal friendship between Lithuania and Ukraine.
"We'd like to receive a video, where our named drone is destroying russian tanks. That's all that we need. "
Read more: https://mediacenter.org.ua/news