Back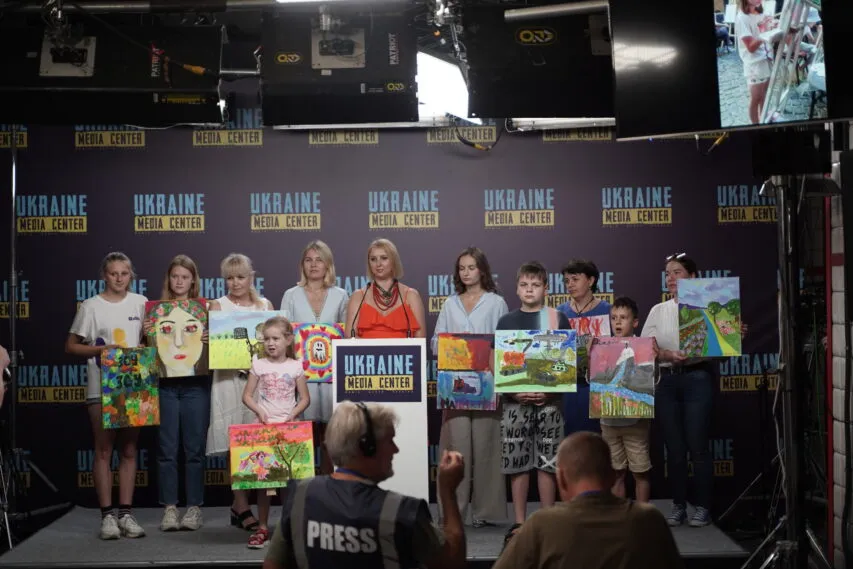 July 8, 2022, 12:31
War through the Eyes of Children Charity Event: Twelve Children Paintings to Be Sold in Ireland with Proceeds to Support Ukraine's Armed Forces
War through the Eyes of Children charity event took place in Lviv, in Lviv's Coffee Mine. Children from different cities – Kyiv, Mariupol, Popasna, and others – painted their impressions of the war in Ukraine. Authors and event organizers presented some paintings during their briefing at Ukraine Media Center.
Twelve paintings will be exhibited in an art gallery in Sligo, Ireland, in two weeks. The paintings will be auctioned to use the proceeds to procure specific medicines, medical supplies, and surgical equipment for the Ukrainian military. The medicines and other supplies will also be purchased in Ireland.
"We wanted to help with organizing procurement and showing impressions of children affected by the russian aggression to the world," Inna Melnychenko, the project organizer, told.
"Children did not paint the war; they painted their emotional experience of it. I saw a boy who painted fire very meticulously. When I asked him about it, I found out his house had burned out, and he had nowhere to return," Maria Sakvuk, Lead Specialist of Children Services Office at the Humanitarian Policy Department of Lviv City Council, commented.
The Sligo town council and the Ukrainian charity Poruch (Nearby) supported the event. The event was organized by the Rapid Response Ukraine humanitarian mission and Lviv City Council.
Read more: https://mediacenter.org.ua/news