Back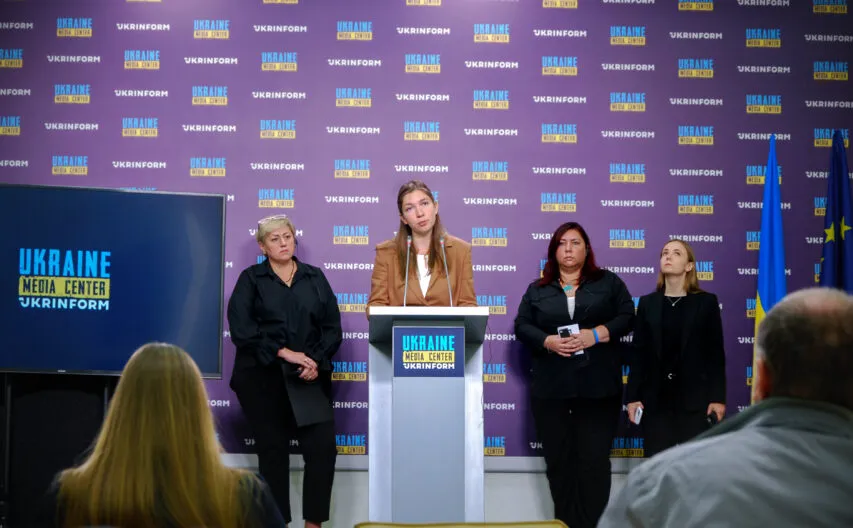 Nataliia Zarytska, a wife of a POW, Chair of the "WOMEN OF STEEL" Council of Wives and Mothers of Ukraine's Defenders; Natalia Kravtsova, a mother of a POW; Nelia Shastun, a mother of two fighters – a soldier killed in Mariupol and a POW; Anna Kalynchuk, attorney, Media Center Ukraine — Ukrinform
September 6, 2022, 14:44
War crime in Olenivka: families of soldiers still do not know their fate; international organizations denied access to colony
Nataliia Zarytska, a wife of a POW, Chair of the "WOMEN OF STEEL" Council of Wives and Mothers of Ukraine's Defenders made this statement at Media Center Ukraine — Ukrinform.
"Forty days have passed since the terrorist attack in Olenivka, where Ukrainian prisoners of war were and are being held. I still don't know if my husband is alive. All the relatives still do not know who died and who was injured. Neither representatives of the Red Cross nor other international organizations were allowed to visit the prisoners of war, russia blocks access to them," — she said.
According to her, 25 days after the tragedy in Olenivka, the UN created a group to investigate the situation in this colony. However, the group never started the investigation, citing the fact that the situation at the scene of the tragedy is dangerous for the work of the organization's representatives.
"This is a flagrant violation of all international agreements and guarantees. The fact that neither the UN nor the Red Cross can get on site shows that our prisoners of war are in mortal danger. A great incentive to crime is its impunity. If the world hasn't stopped the criminal in Olenivka, we should expect even worse incidents," — the POW's wife pointed out.
Nataliia Zarytska called on the UN to create effective mechanisms to investigate the terrorist attack in Olenivka and to force russia to comply with the Geneva Conventions.
Natalia Kravtsova, a mother of a POW (Olenivka), co-founder of the "WOMEN OF STEEL" Council of Wives and Mothers of Ukraine's Defenders reported that it has been 40 days and Ukraine is still waiting for the world's reaction to the murder of their relatives.
"For all 40 days, relatives of Ukrainian defenders have been living in their personal hell, because they are not receiving any information about how many people died, who exactly, who was injured, who is alive. russia simply kills Ukrainian prisoners of war with impunity, and the world is scratching its head," — the woman said.
Nelia Shastun added that her two sons are defenders of Mariupol, the older one died, the younger one was captured by the russians. Currently, his fate is unknown: "We demand the world to release our defenders, or to ensure their extraction."
Read more: https://mediacenter.org.ua/news