Back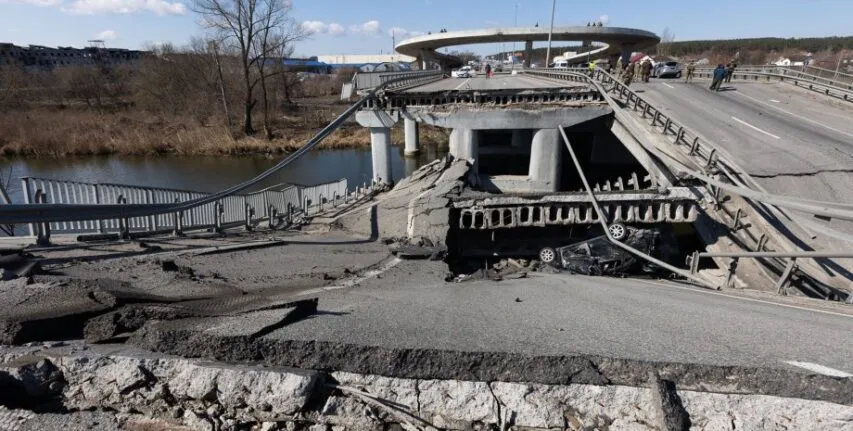 April 14, 2023, 15:46
Vyacheslav Chaus: over 12,000 buildings and infrastructure facilities in Chernihiv oblast destroyed by russian occupiers
During the russian invasion, 35 bridges were destroyed in Chernihiv region. In total, the enemy damaged and destroyed more than 12,000 buildings and infrastructure facilities.
Viacheslav Chaus, Head of Chernihiv Oblast Military Administration, reported the statistics at a briefing at the Media Center Ukraine – Ukrinform.
"There are more than 12,000 damaged or destroyed buildings and facilities in our region. 99% is civil infrastructure, critical facilities, housing. If we talk about housing, then more than 80% of the 12,000 objects are residential buildings. The largest part of them is privately owned detached houses," Viacheslav Chaus noted.
He noted that over the past year, the funds of the state, regional, and local budgets as well as the funds of donors who help Chernihiv oblast made it possible to restore almost 3,000 residential buildings.
"About 2,000 privately owned detached buildings are being rebuilt. But there is still a lot of work ahead, because the enemy has done a lot of damage in Chernihiv oblast and continues to do so today in the areas at the border in Chernihiv region," the Head of Chernihiv Oblast Military Administration added.
In addition, Viacheslav Chaus reported that 35 bridges were destroyed in Chernihiv region during the russian invasion.
"35 bridges were destroyed during the active phase of the russian invasion of the region, and the 36th was damaged by the enemy last week with an airstrike. Of these 36 bridges, 31 have already been restored and 4 have undergone extensive repairs. Others have been restored using temporary means, including the bridges that France gave us as aid. They provided 6 bridges, we have already put up 5. One cannot be put up due to high water, but we will do it as soon as the water recedes," said Viacheslav Chaus.
At the same time, he pointed out that many bridges in the region need extensive repairs, so the work to repair and restore them will continue.
"Those crossings that are temporary today, of course, have both tonnage restrictions and certain inconveniences, which also affects logistics. Therefore, we will build bridges and attract funds from donors, among other sources. We constantly talk with our international partners about the help we need to restore bridges."
Read more: https://mediacenter.org.ua/news