Back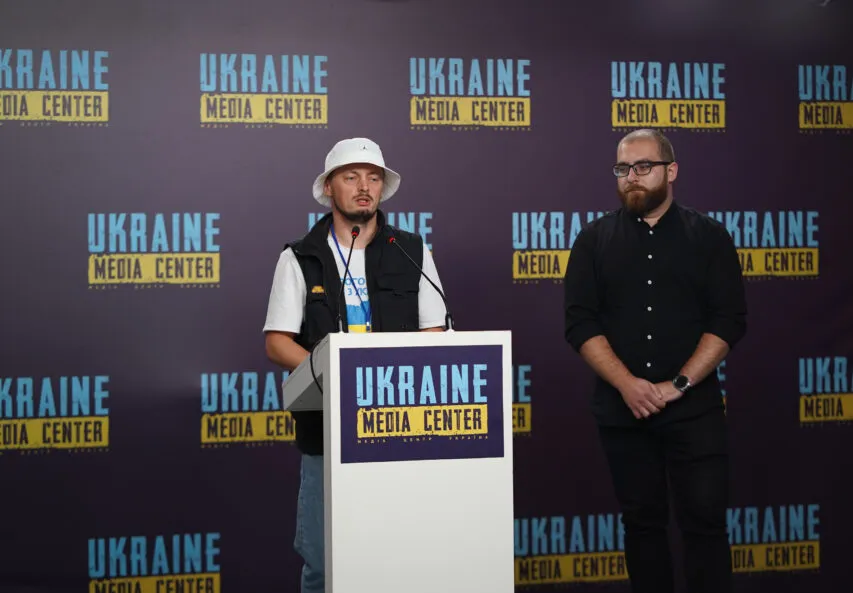 Співзасновник Street Culture Віктор Чулановський та директор мережі молодіжних просторів ТВОРИ! Олег Малець у Медіацентрі Україна, 12 серпня
August 12, 2022, 12:35
Urban Toloka in Lviv: Volunteers Will Clean up a Building for the Future IDP Camp to Music
An Urban Toloka (community work event) started in Lviv on August 12: Volunteers will help clear the space for a future urban camp for internally displaced persons. Viktor Chulanovskyi, a co-founder of Street Culture, told about this during his briefing at Media Center Ukraine.
"We bring together all volunteers who apply. We clean up and arrange the space for a new shelter. A DJ will play music, so we'll do it in a good mood. It is a new youth format that is trending now. One can combine good deeds, meet nice people, and have a good time, Viktor Chulanovskyi said.
The Toloka will last till August 14. After that, volunteers plan to clean up an area of 5,700 square meters. The urban camp will be opened here later. It will be the second modern IDP shelter organized by Street Culture & Urban Reform & Game.
"The New Place is more of a fundamental shelter, a sturdy urban camp with several leisure zones that can accommodate people during the cold period of the year. The first floor will be used for entertainment, for young people, and will also have a kitchen and a launderette. The second floor will be organized as a residential space with bunk beds and dedicated rooms for mothers with children," Viktor Chulanovskyi indicated.
The Urban Toloka starts on International Youth Day; Ukraine celebrates it for the first time with the whole world on August 12.
"Throughout the country and worldwide, many activities and events are dedicated to Youth Day. Lviv is not an exception. We realize that it is one of the key challenges for the city to provide proper conditions for internally displaced persons, for those Ukrainians who lost their homes and found shelter here in Lviv. Thus, we joined our forces with Street Culture & Urban Reform to host an event that will give rise to a new place for accommodating internally displaced Ukrainians here in Lviv," Oleh Malets, Director of TVORY!, a network of youth spaces, said.
The Urban Toloka is organized by Street Culture & Urban Reform and GAME, a Danish street cultures NGO. The event is supported by Lviv City Council, Lviv's Sports Office, and TVORY! Youth Spaces Network.
Please fill out the form and wait for a phone call to take part in the event.
Read more: https://mediacenter.org.ua/news