Back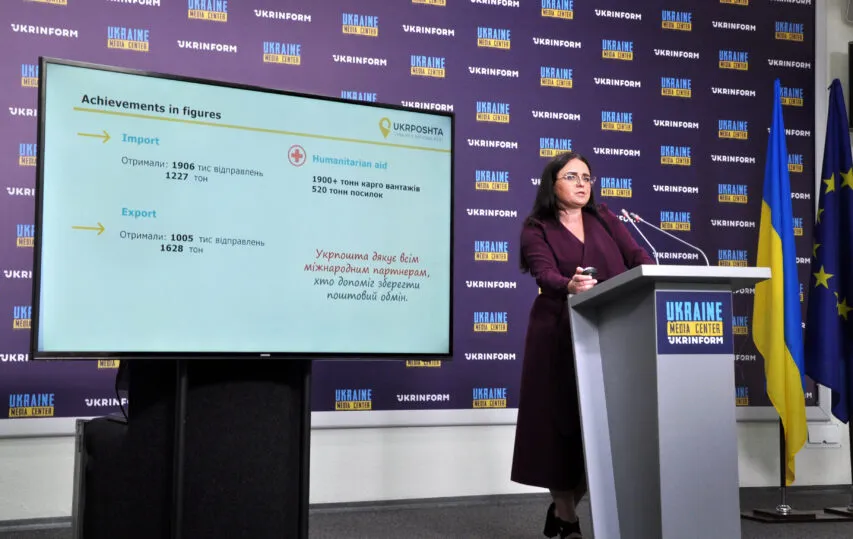 Юлія Павленко, директор департаменту міжнародних операцій «Укрпошти», Медіацентр Україна - Укрінформ, 18 липня
July 18, 2022, 14:06
Ukrposhta launches additional services in wartime
Ukrposhta stopped working for only one day, February 24. Then the country's postal service got back to work focusing not only on local delivery but also on import and export. It was necessary to change the logistics, since the sky over Ukraine closed for commercial and cargo flights, but postal services needed to continue working. Also, social welfare payments continued to be paid out to Ukrainian citizens. Currently, Ukrposhta continues to pay pensions to more than 3 million citizens.
Yuliia Pavlenko, Director of the International Operations Department at Ukrposhta made this statement at a briefing at Media Center Ukraine.
"In order to make life easier for Ukrainians during the war, Ukrposhta launched additional services — redirection of social benefits and pensions and redirection of parcels. Also, the post office launched "Parcel from home" campaign and provided a 70% discount for those who had to leave Ukraine. As of today, more than 532 tons of parcels have been sent as part of the campaign," — she said.
Work with humanitarian cargo was a separate challenge. Therefore, in order to deliver over 2 million kilograms of humanitarian aid, a number of companies around the world became partners of Ukrposhta, which made it possible to ensure adequate delivery times.
At the beginning of April, after a 21-year break, Ukrposhta resumed the delivery of shipments by rail. In just three months, shipments were delivered on 718 trains. Their quantity increased every month with the numbers soaring in June — by 55% compared to April. Also, the number of delivered parcels increased by 55%, from 477,000 parcels in April to 741,000 parcels in June.
Read more: https://mediacenter.org.ua/news