Back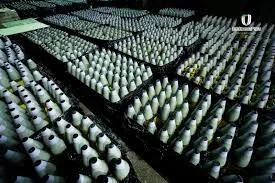 June 7, 2023, 20:30
"Ukroboronprom, together with partners produces tens of thousands of shells per month and is working on mastering NATO's standard ammunition production – Natalia Sad
Today, the Ukroboronprom enterprises, together with our partners and at the partners' facilities, have managed to take production to the next level gaining a foothold at around several tens of thousands of manufactured shells of various calibers per month. The capabilities are growing every month, but it still does not match the capacity demand of the Security and Defense Forces.
Nataliya Sad, Ukroboronprom Spokeswoman, made the relevant report during a briefing at Media Center Ukraine – Ukrinform.
"These are very small numbers in the context of the needs of our Security and Defense Forces. However, our capabilities are growing from month to month. However, unfortunately, not as fast as the needs of the Security and Defense Forces. Though this process is ongoing and today we are talking about the UOP enterprises together with our foreign allies have mastered the production of such shells as 82-mm and 120-mm mines, 1222-mm and 152-mm artillery shells, and 125-mm tank rounds," noted Natalia Sad.
In addition, she emphasized that the development of NATO's standard caliber production is ongoing.
"Today, we are also mastering the production of 155-mm NATO-standard artillery caliber. We are working on learning how to make this projectile because it is no secret that the army is gradually being saturated with artillery systems of this caliber. Therefore, it is promising for us to master the production of this particular NATO-type caliber."
Read more: https://mediacenter.org.ua/news