Back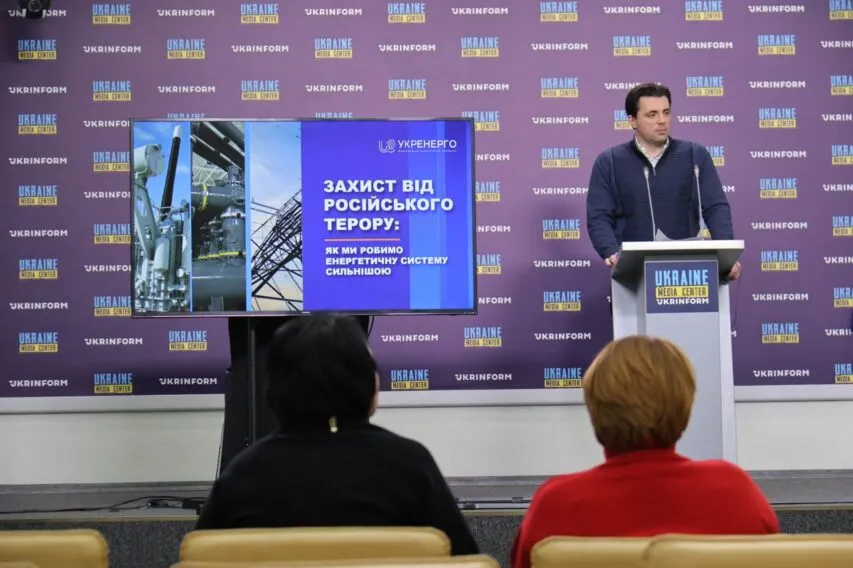 November 17, 2023, 15:51
Ukrenergo restores operation of 95% of electrical substations – Volodymyr Kudrytskyi
During the repair campaign, Ukrenergo restored the operation of 95% of electrical substations, as well as rebuilt 5,000 km of power lines from scratch. In addition, a number of measures were taken to improve the ability to recover the network and protect it.
Volodymyr Kudrytskyi, Chairman of the Board of NEC Ukrenergo, made this statement during a briefing at Media Center Ukraine – Ukrinform.
"We restored the operation of 95% of all our substations. Let me remind you that more than 40% of the main networks were damaged during the previous russian missile and drone campaign. We also repaired or rebuilt 5,000 kilometers of main overhead power lines from scratch. That is, we can say that after sustaining 40-50% damage to the electrical grid, which had been built in 30-40 years, we restored almost the full functionality of our substations in almost 8-9 months with about a quarter to a third of all Ukrenergo's overhead lines either repaired or rebuilt from scratch," said the Chairman of the Board of NEC Ukrenergo.
In addition, this year, as opposed to last year, Ukrenergo increased its emergency stock of materials and equipment by 3.5 times, thereby enhancing the ability to quickly restore the grid in the event of a repeat of last year's hostile missile and drone campaign against Ukraine's energy system.
In addition, Volodymyr Kudrytskyi noted that over USD 1 billion worth of aid from Western donors in the form of grants and loans helped to carry out large-scale works to restore the power grid. He added that the grant component consisted of at least USD 350 million.
"We used this money both to repair our own network and to conduct calculations in the electricity market so that other players could essentially benefit from our ability to attract financial resources from international banks and Western financial institutions. By paying off our debts, we thereby created conditions for power plants so that they could invest this money in the restoration of their power units, which were also damaged last winter," he said.
Read more: https://mediacenter.org.ua/news