Back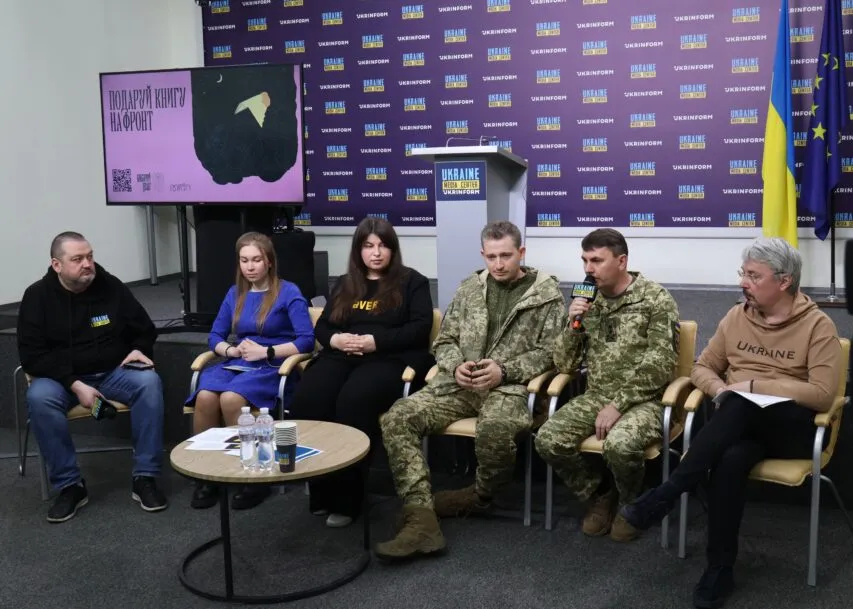 April 10, 2023, 16:37
Ukrainians will have the opportunity to send books to the military directly to the frontline
The Media Center Ukraine — Ukrinform held a presentation of the 'Books to the Front' project. The project is a Ministry of Culture and Information Policy of Ukraine along with the Cultural Forces Public Organization initiative, which involves collecting and delivering books to Ukrainian soldiers currently on the front line in the combat zone.
During the presentation, Oleksandr Tkachenko, Minister of Culture and Information Policy of Ukraine, noted that since the outbreak of the war, more than a million books had been delivered to those to be displaced, including children. However, according to him, it has also become clear that "books to the front are also an urgent need."
"I am very grateful to the Cultural Forces Public Organization and the "Family Leisure Club", "KM Books", and "My Bookshelf" bookstore chains for joining this project. These publishing houses will have separately allocated bookshelves set, where everyone can put books, sign them, and send them to our military. And thanks to Nova Poshta postal and courier company, these books will be directly delivered to the military units. Therefore, I call on all other retail chains and concerned citizens to join this campaign. I am convinced that books at the front also strengthen our defense," he emphasized.
At the same time, Major General Vladyslav Klochkov, the Chief of the Main Department for Moral and Psychological Support of the Armed Forces of Ukraine, expressed hope that such initiatives will help bring the libraries of the Armed Forces of Ukraine to the European level.
"We can not allow any information vacuum to occur in the Armed Forces first of all, and secondly, we must keep up with the development even in wartime. Today, Armed Forces libraries are regular structural units. But, unfortunately, it just so happens that this direction stays underdeveloped. But today, there is hope that together we will bring the Armed Forces libraries to the modern European level," added Vladyslav Klochkov.
In turn, Kolya Sierga, Leader of the Cultural Forces Public Organization, one of the Books to the Front initiators, noted that even in the project's early testing stages, the military showed interest in such an initiative.
"We tested this project four months ago. Back then, we collected 400 books in two weeks and delivered them. It was before the Kherson counteroffensive. Those books were distributed to the brigades preparing for the counter-offensive. The guys were so excited to take it and then sent us photos of them reading. That's when we realized it all worked out!"
Read more: https://mediacenter.org.ua/news