Back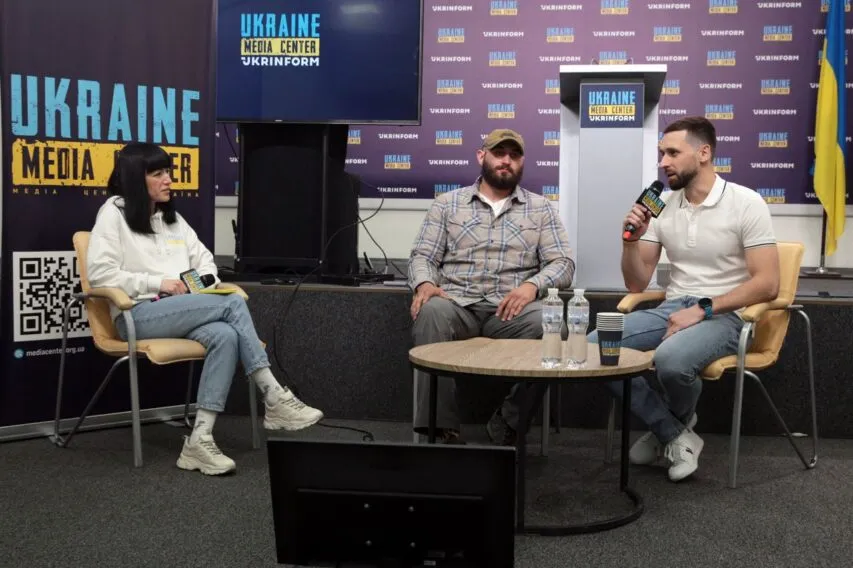 April 28, 2023, 15:12
Ukrainians to run a marathon in the U.S. to raise funds for rehabilitation of Ukrainian military
Maksym Pasichnyk, Veteran of the Air Assault Forces of the Armed Forces of Ukraine, and Vadym Kovalenko, Ukrainian triathlete, will take part in the Cincinnati Flying Pig Marathon, which will be held on May 7 in Cincinnati, Ohio, U.S., as part of the "Marathon of the Indomitable" project.
This announcement was made by the participants of the marathon during a briefing at Media Center Ukraine — Ukrinform.
According to Ukrainian triathlete Vadym Kovalenko, the main goal of participating in the marathon in the U.S. is to raise funds for the rehabilitation of the Ukrainian military and to show that the war is not over.
"I will run with Maksym, accompany him the entire distance. The Cincinnati Marathon is tough. The marathon takes place every year, there will be 25,000 participants. Therefore, we will all run together, and for the last 5 kilometers we will be joined by veterans and the Ukrainian diaspora. We will all finish together," Vadym Kovalenko noted.
In addition, he pointed out that due to the surgery postponed to February and the subsequent rehabilitation, there was not enough time to properly train for the race. However, both participants are determined to succeed.
"I'll run the whole thing. I trained for two weeks for the first half marathon, 21 km. For this marathon, 42 km, for the full distance, I have been preparing for four weeks. We go beyond what is possible. People don't train like that. The average preparation for a marathon lasts from half a year to a year. This is in order to run steadily and without injuries. I want to prove to everyone that there are no limits, it is possible to do everything, even if there are injuries, wounds, defects or deviations – everything can be done, it's all in your head," Maksym Pasichnyk is convinced.
Vadym Kovalenko also added that thanks to the involvement of the Ukrainian diaspora, the organizers of the marathon created a separate Run for Ukraine distance, and all funds from it will go to the charity fund for the rehabilitation of the Ukrainian military. So, according to him, even before the start of the marathon, it was possible to collect several thousand dollars.
"The goal is to raise money for the rehabilitation of our military personnel. Both psychological and physical rehabilitation. We will also be given a tour of the military hospital, where military personnel are treated. Therefore, it will be a great experience for all of us. So they will be able to come to us and show us the protocol of treating the military, or our doctors can go to them. That is why it is the main goal. And we have been preparing for this for a long time, so we think that everything will work out," he added.
The participants of the marathon noted that a number of meetings with veterans, rehabilitation experts, public figures, athletes and officials are planned as part of the trip.
Read more: https://mediacenter.org.ua/news