Back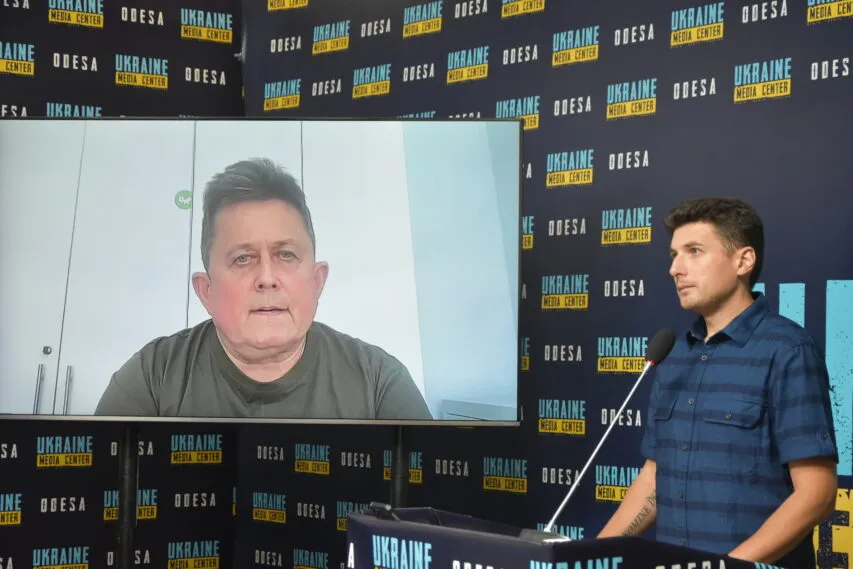 Photo by Media Center Ukraine – Odesa: Andriy Ryzhenko, captain 1st rank of the Ukrainian navy reserve, strategic expert at "Sonata"
August 1, 2023, 16:49
Ukrainian naval drones are capable to destroy the flagship of the russian Black Sea navy – naval expert
However, it will not be easy to do so, as the russians have practiced anti-sabotage work. This opinion was expressed by Andriy Ryzhenko, captain 1st rank of the Ukrainian navy reserve, strategic expert at "Sonata", at a briefing at the Media Center Ukraine – Odesa.
He reminded that according to the russian Ministry of Defense, on the night of August 1, Ukrainian unmanned boats attacked the patrol ships "Sergey Kotov" and "Vasily Bykov" in the southwestern part of the Black Sea. The russian Defense Ministry noted that all three naval drones were destroyed.
"We do not know how this attack actually ended. But if such a drone, carrying 300 kilograms of explosives on board, hits a ship like "Vasily Bykov", it will be guaranteed to destroy it. Even if it hits  "Admiral Makarov" (which became the flagship of the Russian Black Sea navy after the destruction of the cruiser Moskva on April 13, 2022 – editorial note) or "Admiral Essen" frigates. It can also destroy or severely damage them," – Ryzhenko said.
However, he noted that the russians have practiced anti-sabotage defense both while docked in ports and underway, and have increased their capabilities to counter such drones.
Read more: https://mediacenter.org.ua/news