Back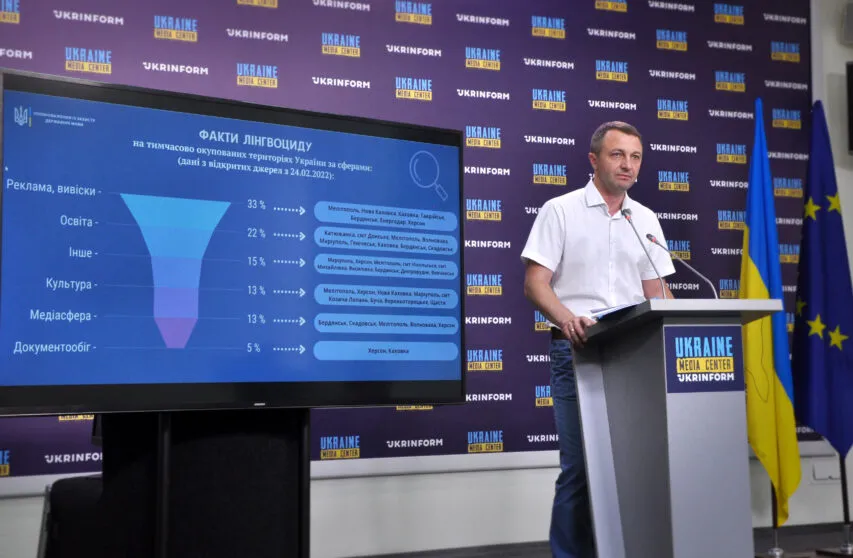 June 28, 2022, 14:56
"Ukrainian law enforcers and international organizations must investigate the facts of linguicide," Commissioner for Protection of State Language
The issue of language discrimination is one of the most important decisions of the Constitutional Court of Ukraine as of July 14, 2021 regarding the proposal of people's deputies on the recognition of the Ukrainian language as the state language. This decision also covers the issues of linguistic genocide and dangers that threaten the national identity and statehood, which is kept alive by the Ukrainian language. According to the decision of the Constitutional Court, the threat to the Ukrainian language is equivalent to the national threat.
Therefore, the Office of the Commissioner for the Protection of the State Language conducted a comprehensive investigation into language discrimination in the occupied territories. All the collected information is to become the subject of investigations by law enforcement and human rights organizations.
This statement was made by Taras Kremin, Commissioner for the Protection of the State Language at a briefing at Media Center Ukraine — Ukrinform.
"From social networks, from public authorities and from our own research, we come to the conclusion that russia is carrying out linguicide in the occupied territories. We are talking about areas of culture, education and media. If we talk about the media, the most prominent examples of linguocide include the abduction and murder of journalists, the seizure of television towers and TV channels. In addition, there were cases of imposing (propaganda) narratives by showing broadcasts with the use of cars (equipped with TV screens)," — he said.
Taras Kremin noted that the replacement of signs, names of cities and streets in the occupied territories is also an example of language discrimination.
"The educational process is one of the most vulnerable areas. Not only are the russians confiscating textbooks and changing curricula, but also kidnapping teachers and forcing them to undergo "retraining" according to their own standards," — he stressed.
All the russia's actions aimed at discriminating against the Ukrainian language must become the subject of an investigation. Law enforcement agencies and international institutions must investigate the facts of linguicide.
"We are doing everything possible to make the collected evidence the subject of attention of our law enforcement agencies. We are also working to ensure that all materials are transferred to international organizations," — the Commissioner for the Protection of the State Language said.
Read more: https://mediacenter.org.ua/news