Back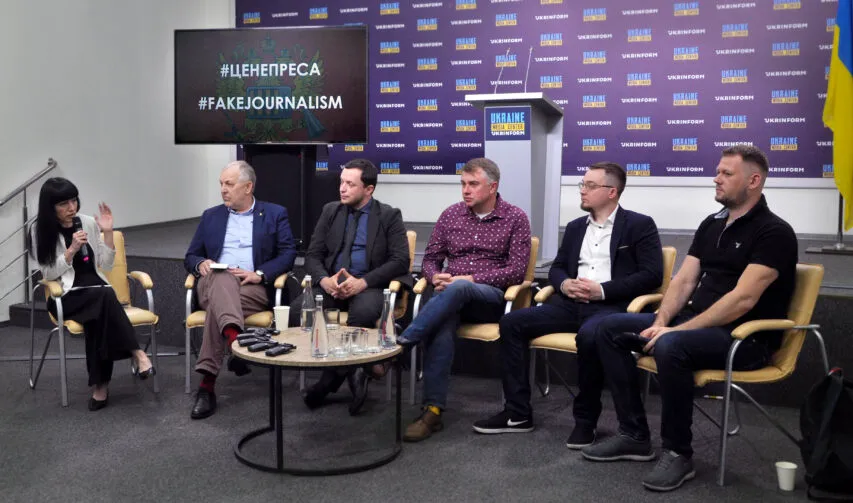 Журналістська зустріч: російська пропаганда як інструмент геноциду українського народу, Медіацентр Україна - Укрінформ, 22 червня
June 22, 2022, 15:16
Ukrainian journalists call on foreign colleagues to join fight against kremlin's propaganda
Media Center Ukraine — Ukrinform hosted a special event — a journalist meeting on June 22. Ukrainian media workers met with their foreign counterparts and urged them to join the fight against russian propaganda, which has long been part of a full-fledged war.
Yurii Makarov, Editor-in-Chief of the TV Directorate of UA:PBC said that the slogans of the russian media were part of a genocide efforts against Ukrainians.
"Ukrainian journalists have united, because it is not only about the security of our country, but also about a different type of weapon — propaganda, which is widely used against us. russia is constantly using information saboteurs, fighters of the very visible front, who directly follow the instructions of the russian special services, or are a part of their staff. When they spread slogans about the Ukrainian Nazis, we understand that this is part of the genocide that is unfolding against Ukrainians. We appeal to the whole democratic world to join the struggle with us. russians are not our colleagues, they are not the press, they are ordinary fake journalism," — he said.
Viktor Tregubov, Expert in Strategic Communications noted that Ukraine knows how russian propagandists work. The Ukrainian military took them prisoner.
"Their military propaganda units spread fake information in telegram channels and other messengers. However, in russia this is done not only by special services, but by everyone. There, the majority of journalists have officer ranks, but even civilian journalists work for propaganda. They all produce propaganda," — Viktor Tregubov said.
He noted that the quality of russian propaganda has dropped significantly. They can no longer work for a global audience, but have shifted their efforts to third world countries and non-critical audiences. russia does not have an informational image to offer to other countries nor a vision of the future.
Ruslan Deynychenko, Executive Director of StopFake, said that their organization is finishing work on the russian propaganda database, which could become evidence in criminal cases against russian propagandists.
"What we're saying is that the people who produced the propaganda should be held accountable, it is also a war crime. Everyone of them. Even those who just created content. They have been waging war for almost a decade. StopFake has collected a whole collection of fakes, which are now becoming an evidence base. We can provide proof of the crimes committed by every russian media outlet, every journalist. We are currently finishing work on the entire database. And we understand that this database can be used by investigators to provide evidence to the court. Together with Facebook, our organization marks these fakes. Millions of posts are marked every month, millions of people receive information as to why this information is untrue," — Ruslan Deynychenko noted.
Maksym Vikhrov, Editor-in-Chief of The Ukrainian Week magazine said that foreign journalists often do not understand that russian journalists are not journalists but propagandists: "We are constantly faced with a situation where normal media refer to russian sources. But our task is to bring the message to the world — what the russian media, press and bloggers are doing is an information war against Ukraine."
Journalist Denis Kazanskyi said that the russians perceive all journalists as enemies because they believe that journalists do not tell the truth, but fight against them, because they are used to the fact that the media in russia is an element of war.
"russian journalists are calling for murder, intimidating and demonizing the Ukrainian population. Recent examples include the work by the russian Sladkov, who threatened that the fate of Mariupol would be repeated by all our cities that are resisting the occupier. Today we received a report confirming that Ukrainian journalist Maks Levin was cynically killed by russians for his professional activities," — he said.
Read more: https://mediacenter.org.ua/news