Back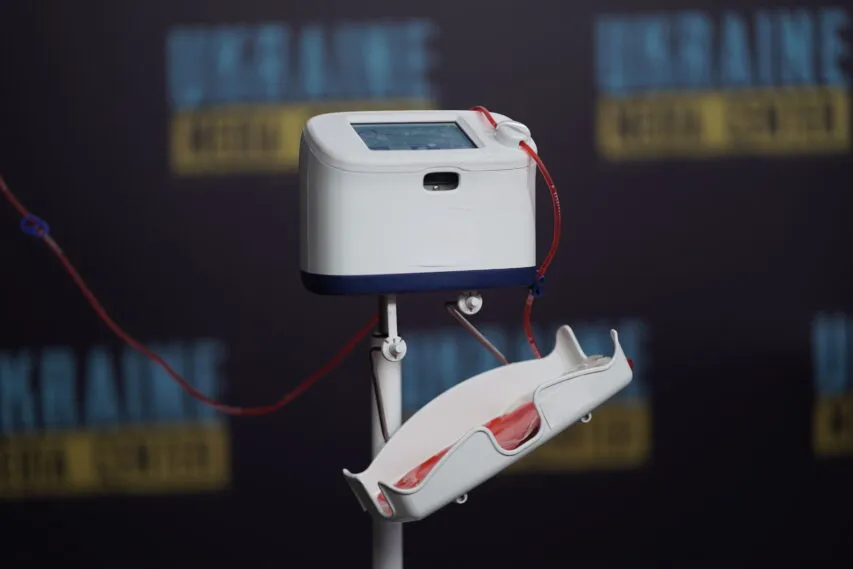 Медіацентр Україна, 14 червня
June 14, 2022, 13:47
Ukrainian Engineers Developed Unique Software to Collect Blood Efficiently
Modern equipment that analyzes donor's condition and determines the pace of collecting blood was presented at Media Center Ukraine. GlobalLogic, a Ukrainian IT company, developed it together with foreign partners. According to Ihor Kostiv, GlobalLogic's Junior Vice President in Lviv, the device with the company's software simplifies the blood collection process, saving nurses' time and, hence, handling more donors.
"The device measures the blood flow rate and mixes the blood constantly during the transfusion, preventing it from congestion. It performs all the functions needed to collect blood and store it properly, ensuring blood's proper quality," Ihor Kostiv stated.
According to Ostap Pona, Medical Projects Developer with GlobalLogic Ukraine, the device also saves donors' time by saving all the necessary information about the person.
"A donor can just come to the blood collection center. The donor can show a QR code on the smartphone if it is not the first visit. The device will pick up all the data, such as the height or weight of the person. With that information, it will calculate how much blood can be donated this time," Ostap Pona explained.
According to GlobalLogic's representatives, over 70% of the USA and European medical market use the blood collection equipment developed by Ukrainian engineers.
Read more: https://mediacenter.org.ua/news