Back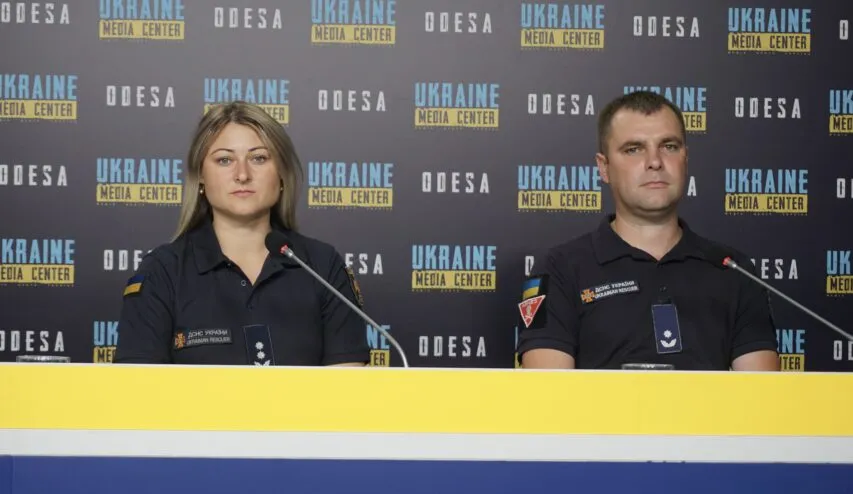 Photo by Media Center Ukraine – Odesa: Maryna Martynenko, head of media relations and public relations of the department of the state emergency service in Odesa region; Oleksandr Slobodianiuk, acting head of the pyrotechnic, underwater and humanitarian demining unit of the state emergency service of Ukraine in Odesa region
September 13, 2023, 15:45
Ukrainian deminers inspects 200-400 square meters of mined territory per day – State emergency service in Odesa region
But it all depends on working conditions. This was stated by Oleksandr Slobodianiuk, Oleksandr Slobodianiuk, acting head of the pyrotechnic, underwater and humanitarian demining unit of the state emergency service of Ukraine in Odesa region, at a briefing at the Media Center Ukraine – Odesa.
"We survey 200-400 square meters of mined areas per day. But this is under favorable conditions. In winter, snow prevents us from working, in autumn – fallen leaves. In summer and spring, the grass can reach the height of a man. That's why one day we can find and defuse 100-200 mines, and another day – 2-3 or 10," – the expert noted.
He added that it is impossible to say that some places are more contaminated with explosive objects and some less.
There are explosive devices everywhere, even in places where there were no active hostilities. Both in apartments and in the entrances of houses. In forests and forest belts. On children's playgrounds. russians mine everything – children's toys and household appliances," – the officer noted.
Also, according to him, the surveyed area can be mined again in 3–4 days.
This is how Svyatoslav Dodon, an explosive technician from Odesa region, died in December 2022. The specialists were working in the de-occupied Snihurivka, Mykolaiv region. They inspected the area, and when they returned to their workplace the next day, their car hit a shell and exploded.
According to head of media relations and public relations of the department of the state emergency service in Odesa region, a street in the Tatarbunary community was renamed in honor of the fallen rescuer.
She also added that this is the only loss of Odesa rescuers, although they have been working in the mined de-occupied territories since April 2022, and now 17 Odesa demining specialists are clearing Ukrainian land.
Read more: https://mediacenter.org.ua/news