Back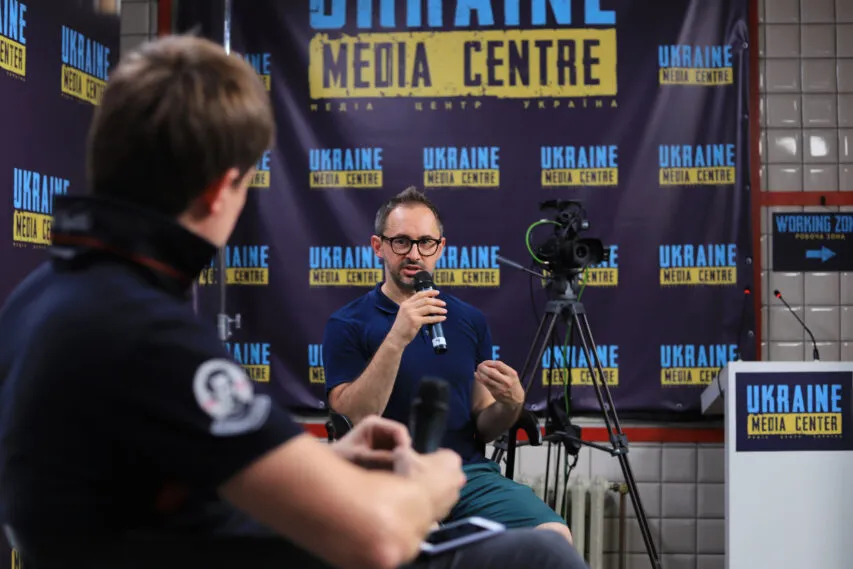 Музиканта та засновник «Я Галерея» Павло Гудімов у Медіацентрі Україна, 5 серпня
August 5, 2022, 18:28
"Ukrainian culture has always been dangerous for the russian empire:" a discussion with the participation of Pavlo Gudimov was held at Media Center Ukraine
The uniqueness of Ukrainian culture, the russian empire's attempts to destroy it and the work of artists during the war are among the topics featured at the discussion with the participation of Pavlo Gudimov, musician and founder of "Ya Gallery."
The discussion entitled "Stolen Ukrainian culture: what is the uniqueness of Ukrainian culture and art. How the Russian Empire and the USSR destroyed Ukrainian identity and culture" is a joint project by Media Center Ukraine and "Tvoe Misto" Lviv independent media hub."
The following are Pavlo Gudimov's most powerful quotes:
On the russians' "inability to understand" the Ukrainian language:
"Ukrainian culture has always been quite dangerous for the russian empire… When Kotliarevsky wrote his "Eneida", what were Pushkin and Lermontov, Dostoevsky and Tolstoy doing then, where were they? Nowhere. Let's just look at the timeline. "Eneida" was one of the earliest works, which was, of course, created on the territory of the russian empire. It was a Ukrainian work, which even had a dictionary and was published in St. Petersburg. It is interesting that it was admired in the same way in Poltava, in Lviv, in St. Petersburg, and in Moscow, because this language was understood by everyone. Now the russians say "we do not understand", but back then they "understood".
On art in times of war:
"The last exhibition I organized in Lviv is called "Muses are not silent." And it was about this potential and about the power of expression that the war opened up. This is wartime art, real-time art. The exhibition is open until September 18 in Lviv's Powder Tower, so everyone can come and see for themselves how the communities of architects, designers, artists and musicians express themselves. We completely understand that it is impossible to fit the entire cultural product of the wartime into the Powder Tower, but at least there are some such markers and marks (of history)."
On views on the uniqueness of cultural identity:
"Probably, if you come to France, you will not see such expressions anywhere, and they will even be prohibited from the point of view of the basic ethics of communication. For the French, who would come and say at the first meeting: "You know, our culture is unique," it would mean committing a faux pas. They just work on their culture, they just represent it correctly, they invest as much as possible in it. And to those who consume French culture it is clear that the culture is unique. There's no need, like in the old soviet times, to hang out banners saying: "best", "widest", "longest", "most unique", "most beautiful".
The full video of the discussion is available here: 
Read more: https://mediacenter.org.ua/news