Back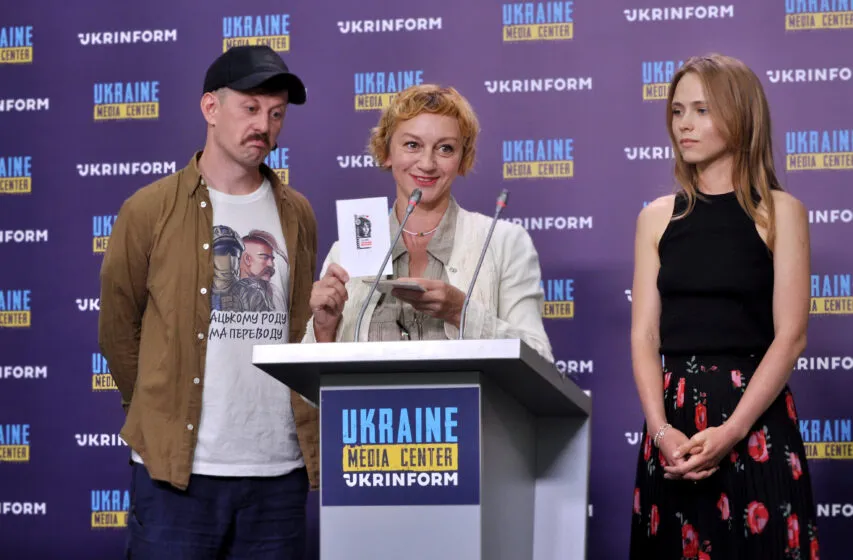 Дмитро Вівчарюк, Римма Зюбіна, Анна Кошмал, Медіацентр Україна-Укрінформ, 14 червня
June 14, 2022, 13:53
Ukrainian actors auctioning off personal belongings to raise money for ambulances for the military
Proactive Generation NGO announced the start of a large-scale auction. The lots include personal belongings and master classes of Ukrainian actors. All the funds raised will be used to purchase ambulances for the Ukrainian military.
Dmytro Oliinyk and Olha Klymenko, founders of the NGO, spoke about this on June 14, at Media Center Ukraine — Ukrinform.
"Our public organization started its work by helping teenagers in 2016. However, February 24 changed everything in our state. Therefore, we reformatted our work to help the Ukrainian military. To effectively meet the needs of the military, the decision was made to find new formats of work. Therefore, an actors' charity auction is starting now," — Dmytro Oliinyk said.
Olha Klymenko specified that the organization had previously purchased two ambulances. However, the need for them is growing.
"At this point, about 100 Ukrainian actors have already joined. (We) have already started to put lots on Instagram profile "Act_lots", where the auction takes place. To participate you need to subscribe to the autcion's page or an actor's profile, because all actors announce the event as well. Lots include artists' belongings, a dinner with a favorite actor, valuables and even a master class. The starting price is UAH 200. The highest bet wins. The winner receives a lot personally from the hands of the actor," — the organizer of the action said.
The bidding has just started, so anyone can still join.
Actor Dmytro Vivchariuk stressed that it's not only actors who have united but every Ukrainian as well: "In our case it is our nation that's at war, and in theirs it's God knows who. Every conscious Ukrainian must do everything to win. We are strong, courageous, and we are a nation. We will win! While the men and women are defending us at the frontlines, we must do everything in the rear to help them."
Ukrainian actress Anna Koshmal stressed that no actor hesitated when such an offer was made, everyone agreed to cooperate.
"We must unite to win together. Things we put up for auction aren't material, but parts of ourselves. I made my lot with my own hands back at the beginning of the war. Regardless of how much they are trying to destroy us, we will always survive because of our soul and our unity," — the actress noted.
Rymma Ziubina, a Ukrainian actress, TV presenter and public activist, stressed that Ukrainian actors are nothing alike russian actors and everyone should be aware of this.
"We do not have riders, we do not throw tantrums. We are ordinary people and we cannot stand idly by when there's war going on. Whoever you call, we all respond to calls for charity," — she said.
Actress Rymma Ziubina has put up for auction personal bookplates by Ukrainian artist Borys Romanov, a resident of Severodonetsk.
Dmytro Vivchariuk has put up for auction his own ring, which is made of a dinar, a coin that is more than one and a half hundred years old. The actor himself had found the coin in the ground.
Read more: https://mediacenter.org.ua/news