Back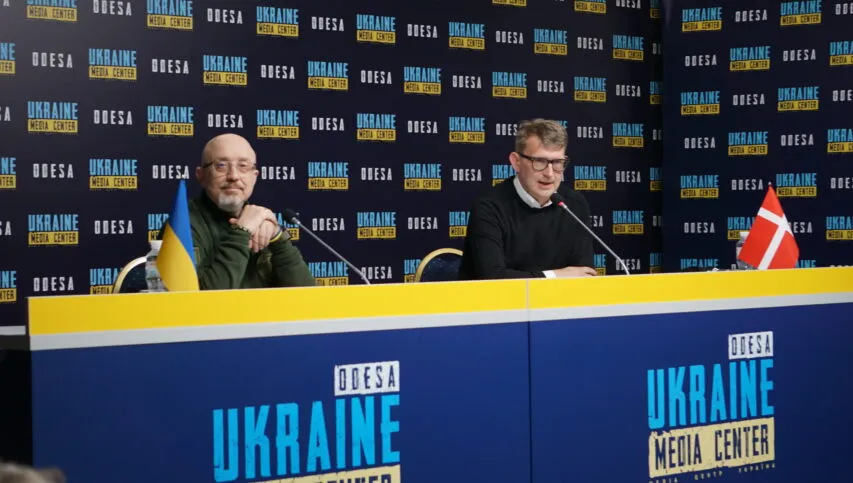 Photo by Media Center Ukraine – Odesa: Minister of Defense of Ukraine Oleksii Reznikov, Acting Minister of Defense of the Kingdom of Denmark Troels Lund Poulsen
April 10, 2023, 18:57
Ukraine needs 5,000 specialists for demining territories – Minister of Defense of Ukraine Oleksii Reznikov
And it may take 30 years to completely clear Ukraine of russian mines. It was announced during a joint briefing at the Media Center Ukraine – Odesa by the Minister of Defense of Ukraine, Oleksii Reznikov, and the Acting Minister of Defense of the Kingdom of Denmark Troels Lund Poulsen by the head of the Ukrainian Defense Department.
"We will need at least 5,000 Ukrainian specialists who will deal with demining. And this is with the expectation that specialists from other countries will come. This demonstrates the experience of Croatia. The war there ended 28 years ago, and until now the territory of this country has not been completely cleared from mines. On average, they can clear 50 square kilometers per year. And our war is still going on. If we move at the pace of Croatia, it will take 30 years to complete demining," – Reznikov said.
However, he added, this process can be shortened by using modern technologies. The Minister of Defense noted that equipment for demining is also provided by the Kingdom of Denmark. During the visit of the Danish colleague, the possibility of expanding cooperation in this area was discussed.
Read more: https://mediacenter.org.ua/news