Back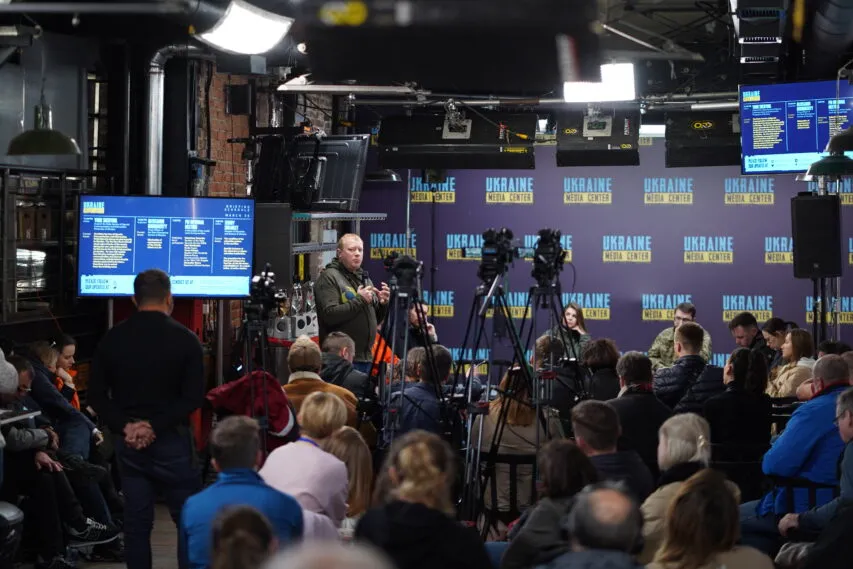 May 2, 2022, 15:19
Ukraine Media Center to hold panel with prominent media workers on World Press Freedom Day
Ukraine Media Center will hold a discussion panel with Ukraine's prominent media workers on World Press Freedom Day. The special event will take place in Ukraine Media Center in Lviv, discussion panel «Covering war in Ukraine: Safety and freedom of speech» will start at 15.00.
The event will feature journalists that are telling the world the truth about Ukraine's fight for freedom. They will discuss how media workers can work in safety during the war, as well as commemorate colleagues fallen in this war.
«Today Ukraine is a battlefield between good and evil, democracy and dictatorship, between free press and censorship. That's why so much depends on both our country and international partners, as well as each and every journalist,» — Ukraine Media Center Coordinator Andriy Shevchenko said.
The participants of the discussion will include:
Marichka Padalko, who has reported on the war for 10 weeks on 1+1 TV channel
Vadym Denysenko, an excellent editor in the past and an incumbent Advisor to the Minister of Internal Affairs of Ukraine
Michael Bociurkiw, who was a Spokesperson of the OSCE Special Monitoring Mission in Donbas, and currently provides commentary for CNN and analytics for The Atlantic Council
Vitaly Portnikov, journalist
Andriy Shevchenko, Ukraine Media Center
The event will take place at 32 Rynok Square, Lviv on May 3 at 15.00. Participation is encouraged. Each speaker will be available for conversation after the discussion.
Live broadcast will be available at:
Read more: https://mediacenter.org.ua/news