Back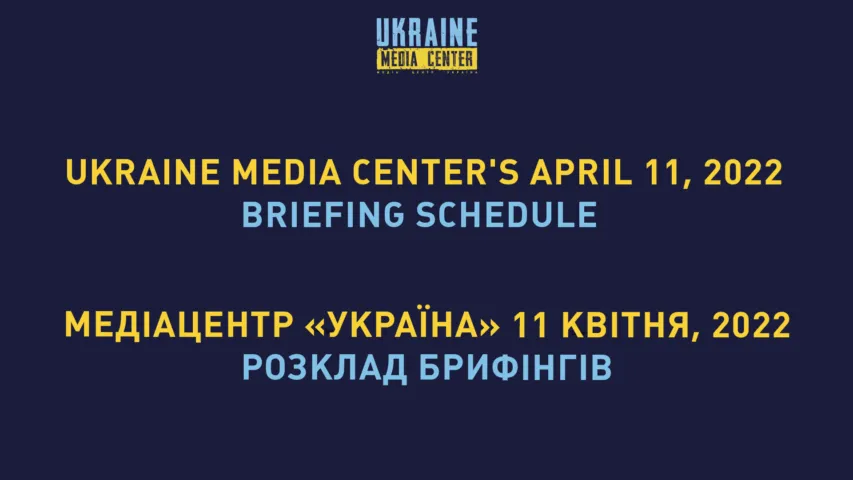 April 10, 2022, 17:29
Ukraine Media Center's April 11, 2022, Briefing Schedule (32 Rynok Sq., Lviv)
11:30 AM — Iryna Fedyshyn, popular Ukrainian singer (in person);
Yevhen Khmara, Ukrainian composer, virtuoso pianist (in person)
Current issues:
Performers during the war: volunteer art front;
Presentation of «Rozstrilyana Vesna» song
A musical performance will take place in the square in front of the Media Center after the briefing.
12:30 PM — Andriy Demchenko, Press Secretary of the State Border Guard Service of Ukraine (online)
Current issues:
Restoration of the border control in the previously occupied territories;
Cooperation of the State Border Guard Service and the Armed Forces of Ukraine;
Current situation at the borders: major trends
1:30 PM — Daniil Menshykov, Acting Head of the Lviv Customs (in person); Tetyana Korotka, Deputy Business Ombudsman of Ukraine (in person); Roman Vashchuk, Business Ombudsman of Ukraine (online)
Current issues:
Simplification of import procedures during the martial law: how the customs duties payment and business taxation is conducted;
Start of the operational and educational «Open Customs» project for businesses that use services of the customs
2:30 PM — SPECIAL EVENT
Informal closed briefing by Serhii Kuyun, a leading Ukrainian oil expert. The briefing will take place via Zoom.
Topic: russian oil sector as a foreign policy instrument.
It is well known that kremlin uses oil as a weapon: how does it work?
Consequences of missile strikes on Ukrainian fuel bases.
Ukrainian, European, and global fuel markets: how the industry will change as a result of the russian-Ukrainian war.
Please fill in the form to attend. Zoom invitations will be sent to the email addresses indicated in the form.
The briefing schedule may be subject to change. Stay tuned!
Please follow our updates at:
facebook.com/UkraineMediaCenter/
https://bit.ly/3qSJtRU – live streams
The Media Center will function as a co-working space from 10:00 AM to 8:00 PM.
Contact us at:
+38 067 652 91 97