Back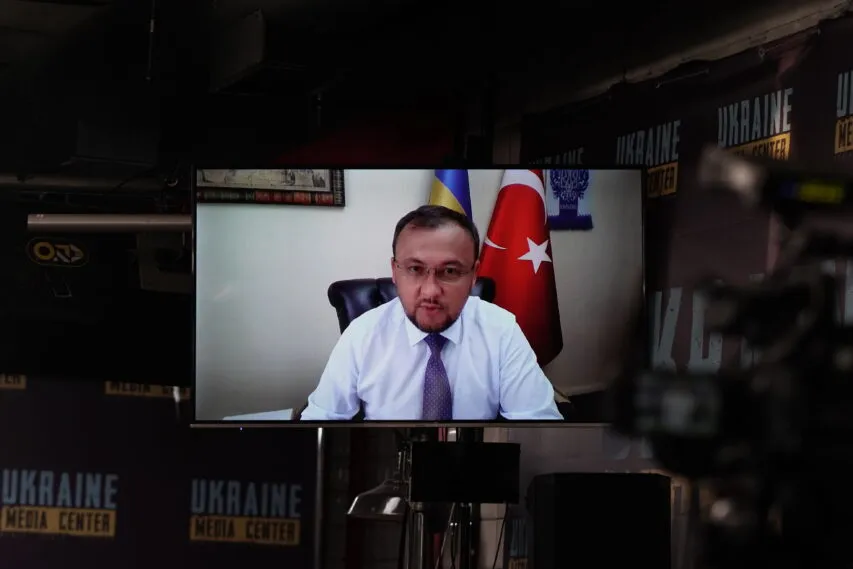 Василь Боднар, Надзвичайний та Повноважний Посол України в Турецькій Республіці У Медіацентрі Україна, 23 червня
June 23, 2022, 12:04
Transportation of Ukrainian grain from ports yet to be unblocked, talks on this issue to be held next week in Istanbul — Ukraine's Ambassador to Türkiye
The decision to transport grain from Ukrainian ports has not been made yet, and the news about the transportation of grain by Turkish ships is a manipulation initiated by russia, Ukraine's Ambassador Extraordinary and Plenipotentiary to the Republic of Türkiye Vasyl Bodnar said at a briefing at Media Center Ukraine. According to him, this, in particular, concerns the reports about the departure of Turkish dry cargo from the port of Mariupol.
"This ship, which was in the port of Mariupol, was detained by the occupiers after the capture of the city. Now the ship has been released, and it can go out into the sea. This is one of more than 20 ships that were in Ukrainian ports at the beginning of the war. We are working to unblock the ports and to return all the ships in the ports to their owners," — Vasyl Bodnar said.
According to the Ambassador, the issue of unblocking Ukrainian ports and grain exports is to be discussed next week at a 4-party meeting in Istanbul. Ukraine initiated the negotiations. The meeting itself should take place with the participation of Ukraine, the UN, Türkiye and russia.
"We have made proposals to the United Nations regarding the plan to unblock Ukraine's ports in order to push the russian side away from the attempts to control our territorial waters and block commercial vessels. This plan has been agreed by us and the UN, it is supported by Türkiye. The UN has involved Türkiye in the efforts to persuade russia to agree to this plan as a basis," — the Ambassador Extraordinary and Plenipotentiary of Ukraine to the Republic of Türkiye said.
Read more: https://mediacenter.org.ua/news