Back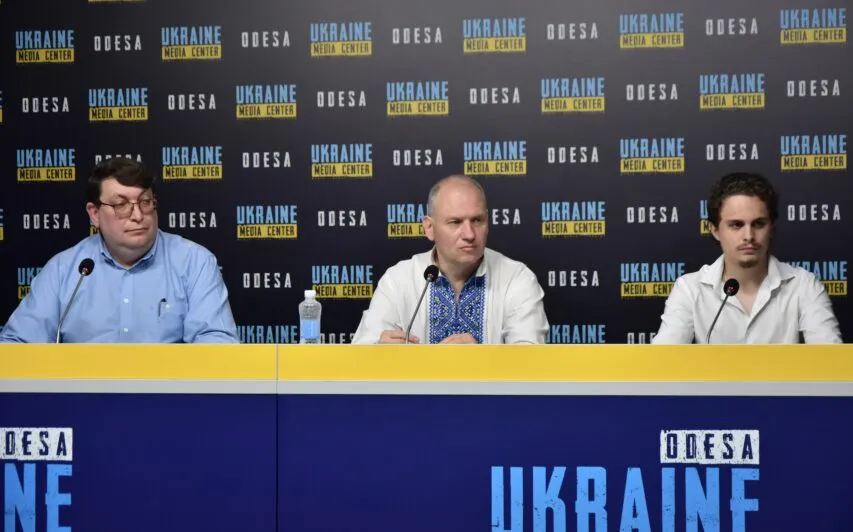 Photo by Media Center Ukraine – Odesa: Andriy Artemenko, acting deputy head of Odesa customs service regional office of State customs service of Ukraine; Kostyantyn Myronov, Head of the State supervision Department in Odesa region of the State service of Ukraine for Transport safety; Oleksii Skrypchenko, Manager of the logistics Department of Blasko Transport Company LLC
May 18, 2023, 15:01
Thousands of trucks have passed through four checkpoints in Odesa region after the introduction of the "eCherga" (Equeue) system – Ukrtransbezpeka
In total, there are 10 checkpoints in Odesa region. This was announced at a briefing at the Media Center Ukraine – Odesa by Kostiantyn Myronov, Head of the State Supervision (Control) Department in Odesa Region of the State Service of Ukraine for Transport Safety (Ukrtransbezpeka).
"eCherga" was introduced on May 8 at four checkpoints – Starokozache – Tudora, Orlovka – Isakcha, Reni – Giurgiulesti, Vynohradivka – Vulcanesti. Thousands of trucks have since passed through these checkpoints," – the official said.
He added that the advantages of "eCherga" include the ability to monitor the situation online, optimization of business processes, transparency, which reduces corruption risks, etc.
Oleksiy Skrypchenko, Logistics Department Manager at Blasko Transport Company, noted that the introduction of "eCherga" at Odesa checkpoints has significantly accelerated customs clearance.
"At the Orlovka checkpoint, the queue of cars used to be up to 40 kilometers long. Drivers stood for three weeks, now it is three days. In addition, it solves the problem of alcohol abuse among drivers. It also saves on fuel and related expenses for drivers," – added Skrypchenko.
Andriy Artemenko, acting deputy head of Odesa customs at the State Customs Service of Ukraine, added that the introduction of "eCherga" has disciplined customs inspectors, with the time it takes for one truck to pass through now ranging from 8 to 15 minutes.
"The number of vehicles at the checkpoints has increased significantly. For example, at Orlovka-Isakcha, a ferry crossing, up to 70 cars used to pass through per day, now there are more than 100. And we plan to launch another ferry in June, which allows us to transport up to 120 cars a day," – the official added.
Read more: https://mediacenter.org.ua/news