Back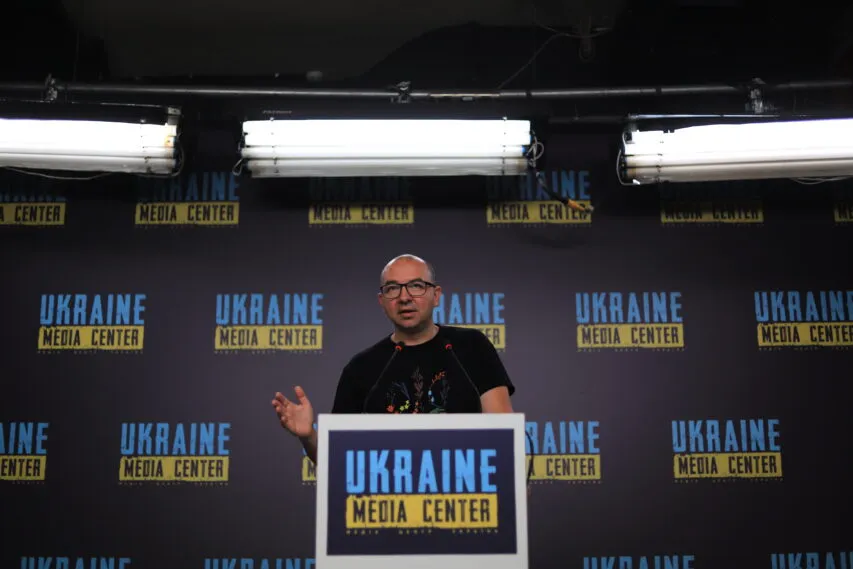 Volodymyr Yermolenko, philosopher, journalist, Analytics Director at Internews Ukraine, Editor-in-chief at UkraineWorld.org, Media Center Ukraine
August 26, 2022, 13:41
"This War is a Story of Our Winning the Confidence in Ourselves," the Philosopher Volodymyr Yermolenko
What is Ukraine's role in the modern world? What makes the russian ideology so special? How does propaganda help russia wage war? Volodymyr Yermolenko, philosopher, journalist, Analytics Director at Internews Ukraine, Editor-in-chief at UkraineWorld.org, pondered these and other important topics. His most important ideas are presented below.
On the russian propaganda:
"The russian propaganda's key feature is the dehumanization. For dozens of years, the russian so-called media have tried to dehumanize Ukrainians, Europeans, and Americans to show that they are not genuine people. The logic is that if these people are not genuine, we may kill and destroy them. When putin spoke about Ukrainians as perpetrators of the genocide in Donbas, he was preparing the population for the need for genocide against the Ukrainians."
On information fight against russia in other countries:
"We must pay attention to what is going on outside the Western countries, in the so-called Global South. This is what russia is trying to do now: the more crimes it perpetrates, facing resistance and new sanctions, the more it appeals to the other countries where the West is not liked, saying, "See, how they hate me?" Currently, russia is polarizing the whole world. Their goal is to materialize their dream to make the world bipolar again so that russia becomes a leader in the anti-Western world.
Thus, it is important that we talk to countries of Asia, Africa, and Latin America. We need to deliver a simple message that russia, while presenting itself as an anti-imperialist force, is, in fact, an empire, one of the most terrible empires in history."
On Ukraine as a global player:
"This war is a story of our winning the confidence in our agency, the confidence in ourselves. I believe this conquest of confidence has been going on since 2014; in that year, I wrote an essay "Dreams of Europe," saying that the Ukrainians may not be ideal Europeans in the sense of compliance with rules, standards, and the supremacy of the law, but they still can teach the older Europe how they can believe in themselves."
Read more: https://mediacenter.org.ua/news