Back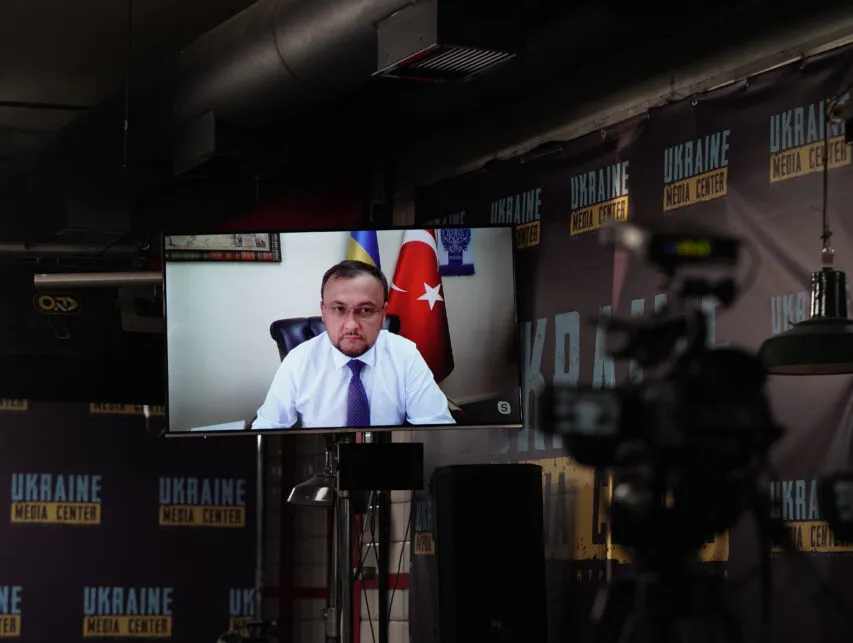 Василь Боднар, Надзвичайний та Повноважний Посол України в Турецькій Республіці У Медіацентрі Україна, 23 червня
June 23, 2022, 12:33
"This is a strong signal of how much Ukrainian society understands the importance of these drones," Ukraine's Ambassador to Türkiye on Ukrainians' raising funds for Bayraktar UAVs
In Ukraine, as part of the Serhiy Prytula Charity Foundation's initiative, enough funds were raised in just one day to buy two Bayraktar UAVs out of the desired three. At a briefing at Media Center Ukraine, the Ambassador Extraordinary and Plenipotentiary of Ukraine to the Republic of Türkiye Vasyl Bodnar said that he was aware of this initiative.
"Of course, all this has to happen through the Ministry of Defense, because the Ministry of Defense in this case is the customer that cooperates with Baykar Makina. But this is an extremely powerful signal of how much Ukrainian society understands the importance of these drones and how strong the mobilizing effect of the name Bayraktar is," — Vasyl Bodnar said.
The Ambassador also noted that even before the start of a full-scale war, Ukraine had signed a special agreement with Baykar Makina on the establishment of production facilities in our country.
"We are also working on this now, and in addition to Bayraktar drones from Turkey that can come and defend Ukraine we also want domestic production in Ukraine to do the same. Then, we will be able to say that we now have our own production of Bayraktars, which can let us properly repel the aggressor," — Vasyl Bodnar summed up.
As reported, the Serhiy Prytula Charitable Foundation is collecting donations for three Bayraktar combat drones to help the Ukrainian Air Force. In just one day, the initiative managed to raise funds for two UAVs.
Read more: https://mediacenter.org.ua/news