Back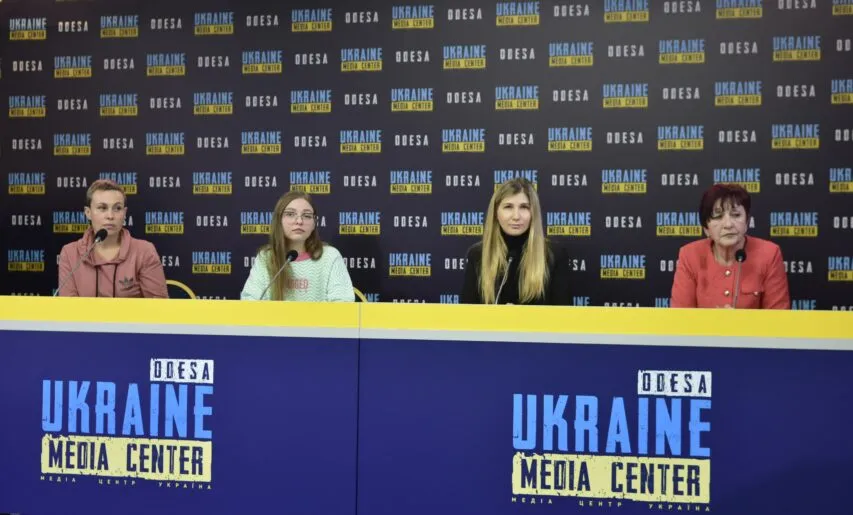 Photo by Media Center Ukraine – Odesa: Yana Titarenko, head of the NGO "Zakon Pryrody"(Law of Nature); Alina Zaborna, manager of the "Kovcheg"(The ark) animal shelter; Olha Chevganyuk, operations director of UA Animals; Valentina Datsyuk, deputy director of the department of ecology and development of recreation areas of the Odesa city council
February 7, 2023, 13:35
There are 700 dogs and 97 cats in the Odesa shelter "Kovcheg"
That's nearly three times more than before the full-scale invasion, and the shelter now does not accept new pets. Alina Zaborna, manager of the "Kovcheg"(the Ark) shelter, told about this during a briefing at the Media Center Ukraine-Odesa.
"Now the situation is much more difficult than before the war. We have approximately 700 dogs and puppies and 97 cats at our shelter. This is three times more than it was before the war, we just don't have the space anymore, so we don't accept new animals. Before the war, many people came to take home a cat or a dog, now there are few such people," said the animal rights activist.
She added that very often dog owners simply do not leave a choice for the shelter. "People bring adult dogs who have lived all their lives in families who don't know what the street is. They suffer a lot emotionally. People don't give us a choice. They say: take the animal away, or we will leave it on the street," Alina Zaborna said.
Yana Titarenko, head of the NGO "Zakon Pryrody"(Law of Nature) added that the situation with homeless animals in Odesa is further complicated by the fact that there are many animals abandoned by their owners who left after a full-scale invasion. Also, many animals are handed over to animal volunteers by soliders from the war zone.
Read more: https://mediacenter.org.ua/news