Back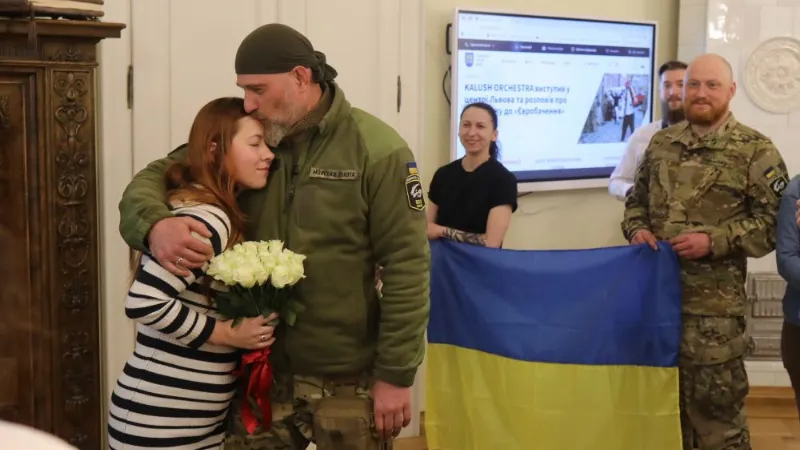 April 2, 2022, 21:02
The Ukrainian fighter came from Mariupol to marry a volunteer
On April 2, Bohdan Maslyak, the military and founder of the Help the Front volunteer movement, and Halyna Moroz, a volunteer and co-organizer of the movement, got married in the Lviv mayor's office.
In order to propose to his beloved one, Bogdan came from Mariupol for only a few days. Halyna did not know about her husband's arrival to Lviv. She was invited to the City Hall to discuss volunteer issues. An employee of the Registry Office was also present at the meeting, so after the long- wished bride's "yes", their marriage was registered.
The first to greet the married couple was the city mayor Andriy Sadoviy.
"Never try to argue with your wife. Even if sometimes she might be wrong – keep your words to yourself. Because if you come into conflict with your wife you lose the very first minute", – the admonition given by the mayor of Lviv.
«Right then, over a month ago, I made a decision, that if I'll have a chance, I'll escape, so I could do that. At that time I didn't know, how it should look like, how to make it unusual. I think I made it just right.", – said Bohdan Maslyak
To help organize an unexpected proposal for the loved one joined the fellow soldiers, mutual friends and governmental employees.
Then Bohdan as a bound to the military service man will go back to the front lines, and Galyna will continue the volunteering in Lviv.