Back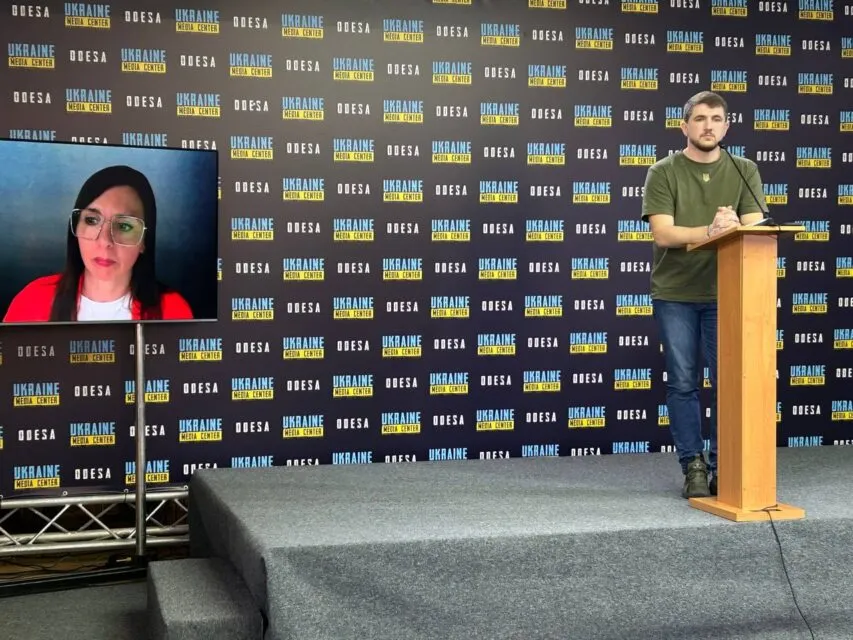 Photo by Media Center Ukraine — Odesa: Manuela Gatto, Director Zaha Hadid Architects, Roman Hrygoryshyn, Deputy Head of the Odesa Oblast Military Administration
October 31, 2022, 13:48
The Ukrainian application for Expo 2030 will be presented at the end of November — The Odesa Military Administration
The presentation of the Ukrainian application for the international exhibition Expo 2030 will take place at the end of November at the 171st General Assembly of the International Exhibition Bureau (IBU). The architectural concept developed by Zaha Hadid Architects for the Odesa project will be presented there for the first time – Roman Hrygoryshyn, Deputy Head of the Odesa Regional Military Administration, stated during Media Center Ukraine – Odesa briefing.
«Between February-April 2023, an inspection mission of the BIE will arrive in Ukraine to examine the central government's guarantees and the project's viability submitted in the registration dossier. Currently, a plan that Odesa will offer to the International Bureau on a visit is being developed», said Hrygoryshyn.
Registration dossier development company CIVITTA calculates that hosting Expo in Ukraine will attract 0.4% more FDI in the first year, after which the effect will continue until 2040 with a growth of 0.2%. The forecast for Ukraine's GDP growth in this period is from 3.5 to 3.7% per year.
The heritage of the World Expo will leave behind a closed IT town, where after 2030 about 40,000 people will be able to live and work.  Thus, Europe will get its own Silicon Valley, Roman Hrygoryshyn emphasized.
Ukraine is an official candidate country for hosting the World Expo. Despite the war, the candidate city of Odesa submitted a registration dossier to the Bureau International des Expositions in Paris in early September. Odesa's competitors are Rome (Italy), Riyadh (Saudi Arabia), and Pusan (South Korea). The voting will take place in a year.
«Expo was held in Italy in 2015, in 2025 the EXPO will be in Japan, so South Korea has few chances. That's why Odesa and Riyadh are favorites,», — Hryhoryshyn added.
He emphasized that money from public funds was not used to prepare the application.
For more information +380500895830
Email: [email protected]
Find us here:
Website: https://mediacenter.org.ua/
Twitter: https://twitter.com/CenterUkraine
Facebook: https://www.facebook.com/UkraineMediaCenter
YouTube: https://www.youtube.com/channel/UCakUdCyDNCdzfosJN2fAWpw
Telegram: https://t.me/mcu_odesa
Read more: https://mediacenter.org.ua/news