Back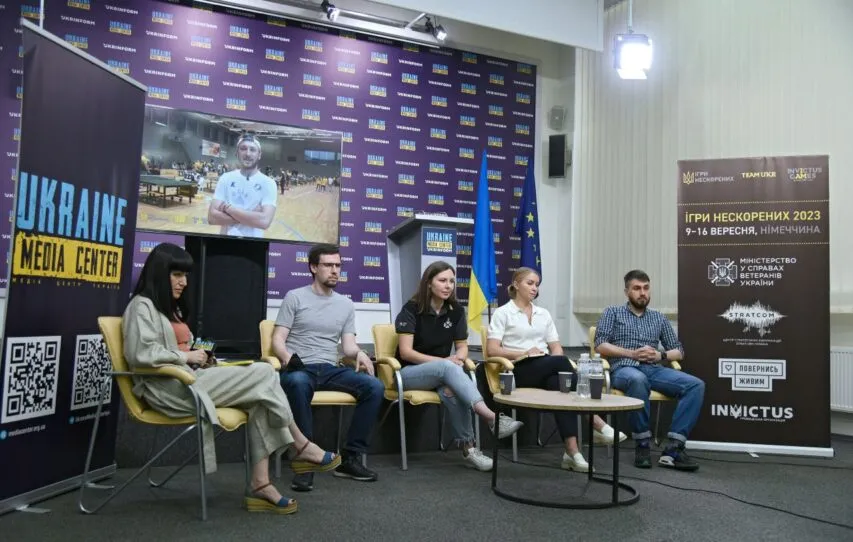 June 5, 2023, 18:55
The Ukraine national team squad for the Invictus Games 2023 has been announced
The Media Center Ukraine – Ukrinform has announced the Invictus Games national team squad to represent Ukraine at the international competition in Dusseldorf.
"Veteran sport as a means of psychosocial adaptation of war veterans is crucial today. At the end of April, the all-Ukrainian selection of the Invictus Games took place, which resulted in the selection of the national team that will take part in the international competitions. Participation in these outstanding international sports competitions is not the first for Ukraine, and it has now become a tradition," said Ihor Kostrikov, Deputy Director of the Department of Rehabilitation and Medical Support of the Ministry for Veterans Affairs.
Ilona Voloshyna, National Team Lead of the Invictus Games in Ukraine, emphasized that this year The Invictus Games Foundation has increased the quota for Ukraine. Thus, this year's Ukraine team will be the largest number of participants in all the years of the Invictus Games in Ukraine.
In turn, the head coach of the 2023 Invictus Games team, Olena Yanovska, emphasized that the program will consist of three training camps to take place over the next three months.
Thus, at the first training camp, each participant will be able to choose their preferred sport. The second training camp will be a game training camp for team sports. The third training camp is planned to be held abroad, and the team will go to competitions from there.
"This year, an incredibly powerful, qualified team of professionals is formed. For each coach, sports take up most of their lifetime. All the coaches are fully committed to rehabilitating our wounded soldiers. And rehabilitation and recovery are an important part of our training. Therefore, the entire period of the training process will be closely monitored by massage therapists, doctors, and psychotherapists who are also part of our team," she emphasized.
In his turn, Ivan Ivan Naumenko, the Director of the "Come Back Alive" Foundation Department of Strategic Initiatives, explained the criteria for selecting the participants.
Thus, the evaluation criteria used were as follows: the effectiveness of sports rehabilitation – 40%, participants' level of motivation to participate in the project – 25%, sports ethics – 25%, and sports performance – 10%.
Thus, the newly elected team included: Veniamin Bondarchuk, Vitalii Borodavka, Oleksandr Budko, Nazar Vozniuk, Volodymyr Hera, Ihor Derman, Maksym Dmytrash, Oleh Dolzhok, Mykola Zaritskyi, Maksym Zubov, Kostiantyn Kobylianu, Oleksandr Kravchenko, Semen Lagun, Pavlo Luchkiv, Vadym Maznichenko, Oleksandr Makovei, Ivan Moldun, Dmytro Polovian, Oleksandr Ponomariov, Iryna Ternikova, Volodymyr Tovkis, Vadym Fasolia, Yuliia Shevchuk, and Bohdan Yarotskyi.
In addition, the Invictus Games Foundation appealed to the Ministry of Veterans with a proposal to provide Yuliia Paievska (Taira) with an additional 25th place to participate in international competitions.
"Last time, Yuliia Paievska had already won her opportunity to participate in international competitions, but because she was captured by the aggressor state, she could not participate directly. This time, the selection committee, at the suggestion and permission of the Invictus Games Foundation, unanimously decided to include Yuliia Paievska in the national team of Ukraine and give her the 25th place in our team," explained Kostrikov
Read more: https://mediacenter.org.ua/news