Back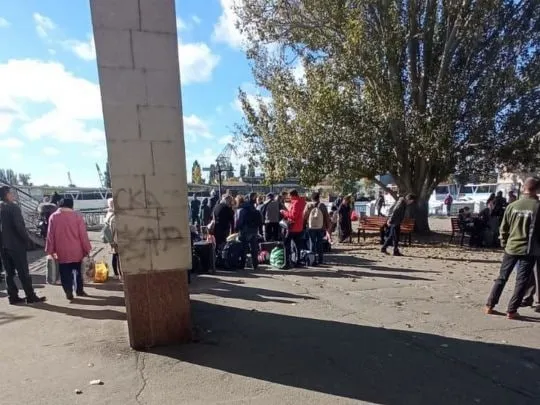 The photo from open sources
October 19, 2022, 14:42
"The occupiers staged a video of a mass "evacuation" of the population in Kherson; in fact, there were only about 1,000 people," Oblast Council
Two weeks ago, the occupiers were spreading information that street fighting would begin in Kherson very soon. Yesterday evening, there was already information that the occupiers and collaborators are planning an "evacuation". The purpose of such deportation is to create panic in the city.
Serhii Khlan, Deputy of the Kherson Oblast Council made this statement at Media Center Ukraine — Ukrinform.
"At night, the people of Kherson received the message to arrive at the river port area at 7 in the morning. But the occupiers did not start this operation until a sufficient number of people had gathered to film them for propaganda videos. They staged a video with a seemingly large number of citizens, but in fact, the transport on the other bank of the Dnipro was waiting for only 1,000 people," — he said.
Previously, the occupiers talked about 50,000-60,000.
"People will not even be taken to Crimea, but to Krasnodar region. But, most likely, people will be sent all the way to the Ural Mountains," — the deputy of the Oblast Council said.
According to Serhii Khlan, all this is done with the aim of scaring people, shelling the city and staging provocations.
"Today Gauleiter (Volodymyr) Saldo announced that "state agencies" have already been deported. The occupiers took away all property from banks and other institutions. There is information that they will build a new "capital" in Henichesk," — he noted.
The russians are going to deport doctors and teachers.
Read more: https://mediacenter.org.ua/news