Back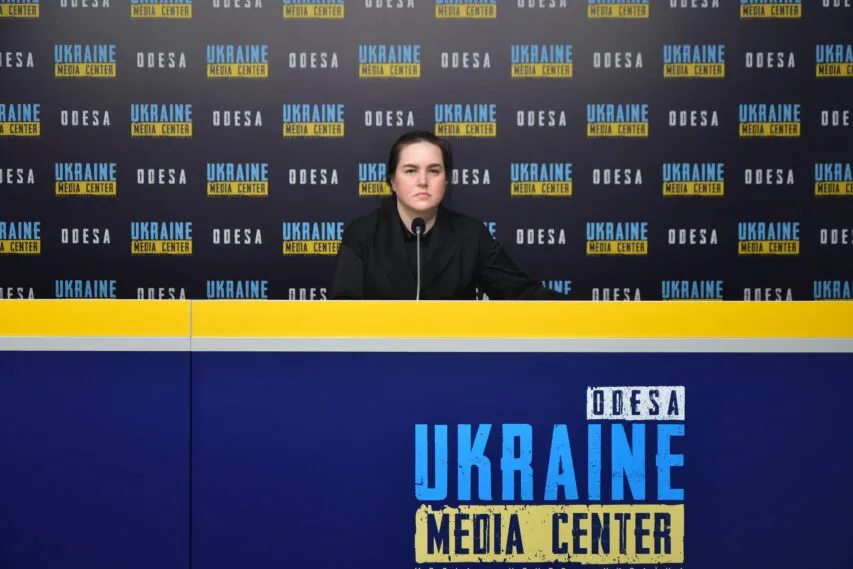 Photo by Media Center – Ukraine: Vira Yastrebova, director of the "Shidna Pravozahisna grupa" (Eastern Human Rights Group)
May 4, 2023, 13:17
The occupiers arrested almost 600 people during last month due to the "law" on forced relinquishment of Ukrainian citizenship
The parliament of the russian federation adopted the law that gave the occupying power the right to force Ukrainians to become citizens in March 2023, and as of May 3, the invaders arrested 571 Ukrainians for refusing to renounce Ukrainian citizenship. Vira Yastrebova, director of the "Shidna Pravozahisna grupa" (Eastern Human Rights Group), told about this at a briefing in the Media Center Ukraine – Odesa.
She noted that this decree allows local officials to force the population to accept two applications from the residents of the occupied territories — on renunciation of Ukrainian citizenship and on accession to russian citizenship.
"This is done in order to discredit Ukraine in the eyes of the world community, as if people are mass and voluntarily renouncing Ukrainian citizenship," – the human rights activist noted.
And according to the NGO Eastern Human Rights Group, the occupiers have created special groups of "law enforcement officers" who are conducting house-to-house searches aimed at identifying people who have not submitted applications to renounce Ukrainian citizenship.
"Those who received two warnings are subject to administrative arrest for 15 days with forced labor. As of May 3, 2023, it is known about 571 people who were detained and subjected to administrative arrest during April 2023 in the temporarily occupied territory of Ukraine," – Vira Yastrebova said.
She also said that the occupiers are trying to force the prisoners to write a statement renouncing Ukrainian citizenship, but they are not doing it.
"Prisoners understand that they can be mobilized or sent to serve their sentences on the territory of the russian federation. And everyone knows how the penitentiary system of the russia works. In addition, there is already experience, as in the territory of the so-called The occupying authorities of the so called LDNR tried to recalculate the terms of serving sentences in accordance with russian laws. This would allow prisoners to be subjected to forced labor," the human rights activist added.
Read more: https://mediacenter.org.ua/news