Back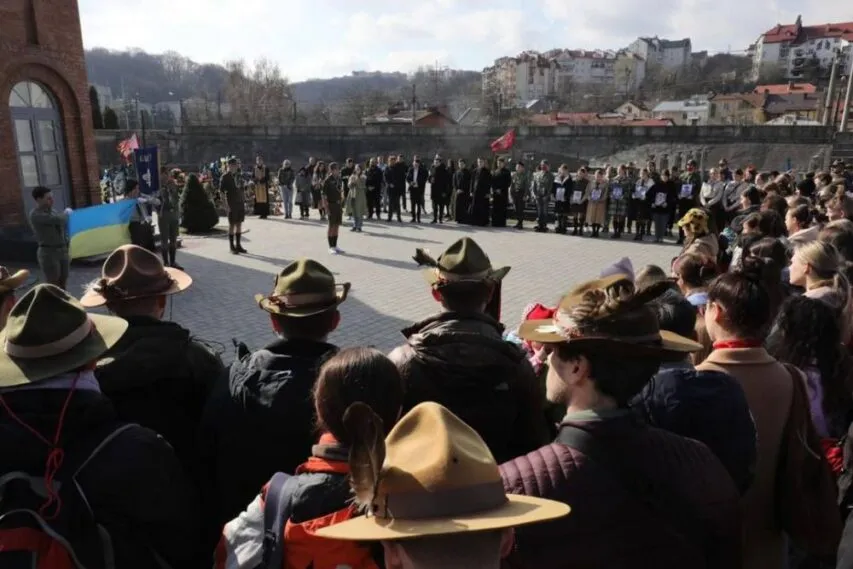 April 12, 2022, 12:31
The military and Plast members were honored in Lviv on the occasion of the 110th anniversary of the scout organization
On the 110th anniversary of the first Plast oath, a ceremony was held at the Lychakiv Cemetery in Lviv to commemorate the soldiers-defenders of Ukraine and Plast members who did not break their oaths. Lviv Mayor Andriy Sadovyi joined the event.
«110 years have passed since the first Plast oath. The Plast members had planned and imagined for a long time how this day would be celebrated, but the enemy army once again shattered dreams and took human lives. That is why today we honor the memory of Plastuns who died in the struggle for Independent Ukraine as part of the Ukrainian Galician Army, the Ukrainian Insurgent Army, and the Armed Forces of Ukraine. Eternal memory to the fallen Heroes», – Mayor of Lviv said.
On April 12, Plast members, joined by the senior volunteers of the organization, representatives of the city, and friendly Plast organizations, held a solemn prayer service at Lychakiv Cemetery in Lviv in honor of Ukrainian soldiers and Plast members who did not break their oaths. The ceremony was held near the monument to the Plast members who did not break their oaths, and to the Plast founders.
«Our goal is to gather in the Plast circle, remember the words of the oath and honor the memory of those who fought for Ukrainian statehood with their own lives,» – Plast members added.
To recall, the national scout organization of Ukraine «Plast», which was established in Lviv, has a long and bold history, which is honored every year on the day of the first Plast oath.
On April 12, 1912, 10 young men first took Plast's oath of allegiance to Ukraine in Lviv. Traditionally, this day is considered the birthday of the organization. Plast now exists in 24 countries of the world and in 108 towns in Ukraine. This year Plast celebrates its 110th anniversary.
Since the full-scale war between russia and Ukraine, the organization's activities in Lviv have focused on helping the country on a daily basis and devotion to the Plast oath – to be faithful to God and Ukraine, to live by Plast law and to help others. For more than a month now, the organization has been operating as Plast's Humanitarian Aid Headquarters in Lviv, sending tons of provisions, medicines and ammunition to military personnel and civilians throughout Ukraine on a daily basis.