Back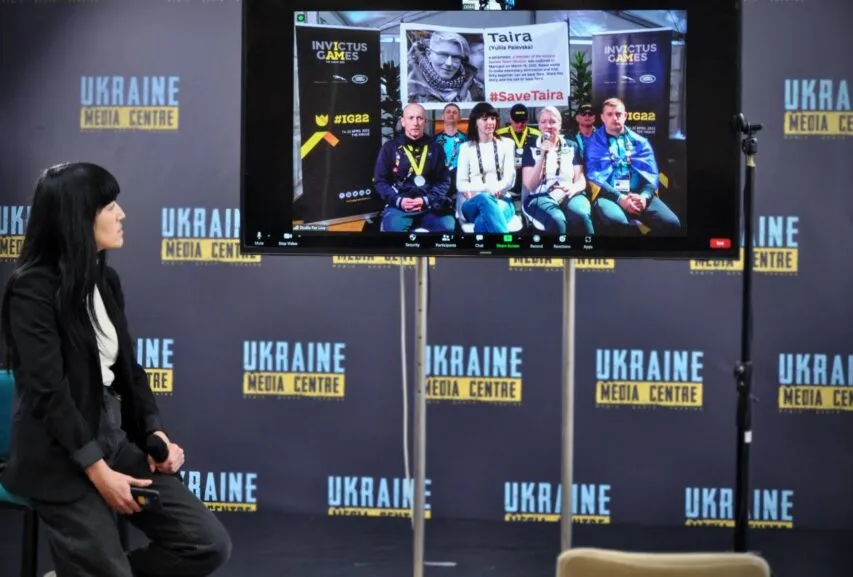 April 18, 2022, 16:20
The Invictus Games National Team will work towards the of Ukrainian paramedic Yuliia Paievska (call sign Taira) release from captivity
The Invictus Games National Team will seek the release of well-known volunteer and paramedic Yuliia Paievska (call sign Taira), who was captured by the Russian troops back in early March.
This was stated by Oksana Horbach, Ukraine's Invictus Games National Coordinator at a briefing at the Ukrainian Media Centre, taken place in Kyiv.
Yuliia Paievska (call sign Taira) is not a servicewoman, but a famous Ukrainian volunteer and paramedic. The word over her capture by Russians got out back on March 16. Taira is also a member of the Invictus Games Team Ukraine.
"It will be very important for us as a Ukrainian team to do everything possible to free Taira from captivity. We are waiting for the prisoner exchange negotiations to proceed. Taira may be threatened with physical violence, we do not understand her state, her whereabouts, we require the international attention, the press coverage," Horbach said.
According to her data, Anna-Sofiia Puzanova, Yuliia's Paievska daughter is currently taking part in the competition instead of her mother and is fighting for a bronze medal in archery.
"Taira's daughter Anna is here with us, she was on the Parade of Nations with the national team instead of her mother. Taira is beside us all the time, we always think about her, we speak of her at all our official and unofficial events, at sporting competitions," Gorbach added.
Unfortunately, the Ukrainian Invictus Games Team Ukraine has already lost one athlete this year. Dmytro Sydoruk was an archery coach, who died on April 5. He was planning on the Invictus Games competing for the rest of his life.
"There were two empty seats in our national team's sector during an opening ceremony, because we were missing two of our competitors. We need to get Taira back. Regrettably, Dima is no longer with us. A talk to our President has helped me to cope with the Dima loss. President mentioned that Dima was prominent, you can tell it by the national team members' performances, because he put his soul into his deal. That's the way I accept it," said Horbach.
According to Inna Drahanchuk, Deputy Minister for Veterans Affairs, Ukrainian team members are involved in the information campaign on Taira release from captivity at most.
"Any meeting is not without those who are aware of Taira and Dmytro. Starting with the highest level of Prince Harry to conversations with other Games members. If only the governments of other countries supported Ukraine at its level same way as the citizens do, this war would have ended with the victory of Ukraine a long ago," Drahanchuk said.
"We feel the support here both as a team and as representatives of the Ukrainian people," Oksana Horbach added.
Let us recall: The Invictus Games is a multi- sport event for wounded, injured and sick servicemen, both serving and veterans, which this year takes place in The Hague (Netherlands).
Yesterday the Games ceremony was opened by the UK's Prince Harry and his wife Meghan Markle.
Ukraine National Team representatives have won three awards on the first day of the Invictus Games. Rodion Sitdikov won the "gold" in the shot put. Artem Lukashuk and Ivan Heretsun brought Ukraine "silver" and "bronze" in long jump.