Back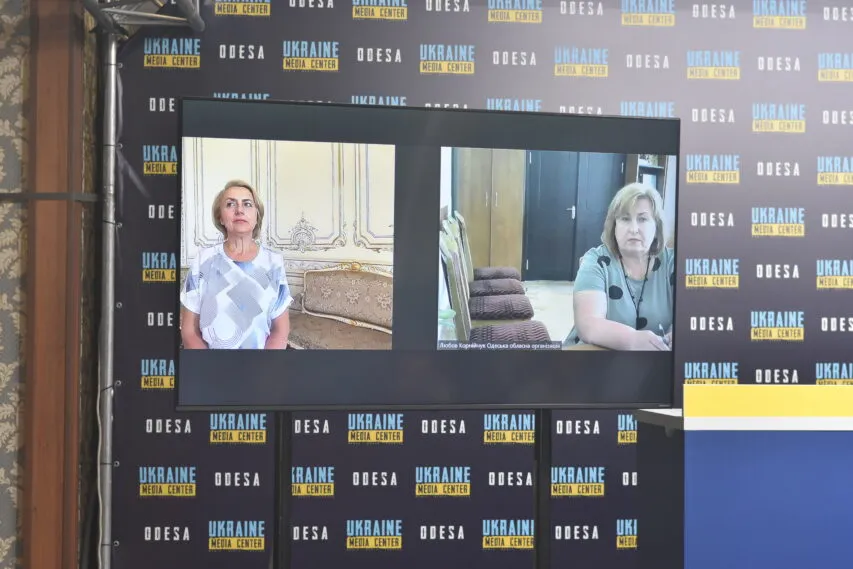 Photo by Media Center Ukraine – Odesa: Svitlana Zhekova, director of the House of Scientists; Lyubov Korniychuk, head of the Odesa regional organization of the Trade Union of Education and Science Workers of Ukraine
July 25, 2023, 14:55
"The interiors of the House of Scientists in shards of glass and metal"  – the director of the institution
But there is no significant structural damage. This was stated by Svitlana Zhekova, director of the House of Scientists, at a briefing at the Media Center Ukraine – Odesa, commenting on the consequences of the attack.
"Every hall, window, door, ceiling, furniture is damaged. Everything is covered in shards of glass and metal. It's good that our antique table and piano were not damaged, as we were able to preserve them. However, everything can be put in order, but we need instructions on how to proceed. We also want to contact the State Emergency Service, because their actions have also damaged the interiors of the house," – the director said.
Lyubov Korniychuk, head of the Odesa regional organization of the Trade Union of Education and Science Workers of Ukraine, said that before the June 23 attack, the House of Scientists was in fairly good condition. 10 years ago the facade of the building was completely restored, and last year the cornice was repaired, which was also badly damaged by the Russian attack.
Natalia Lavrova, a local historian, noted that according to official data, 25 architectural monuments were damaged in the strike.
"But I think there are actually more. Zabludovsky's house, Pomer's house, Stolyarsky's school were damaged. The windows were smashed out. Chyzhevych's house on the Military descent was destroyed. People are asking for help – equipment and specialists," – Lavrova said.
Read more: https://mediacenter.org.ua/news