Back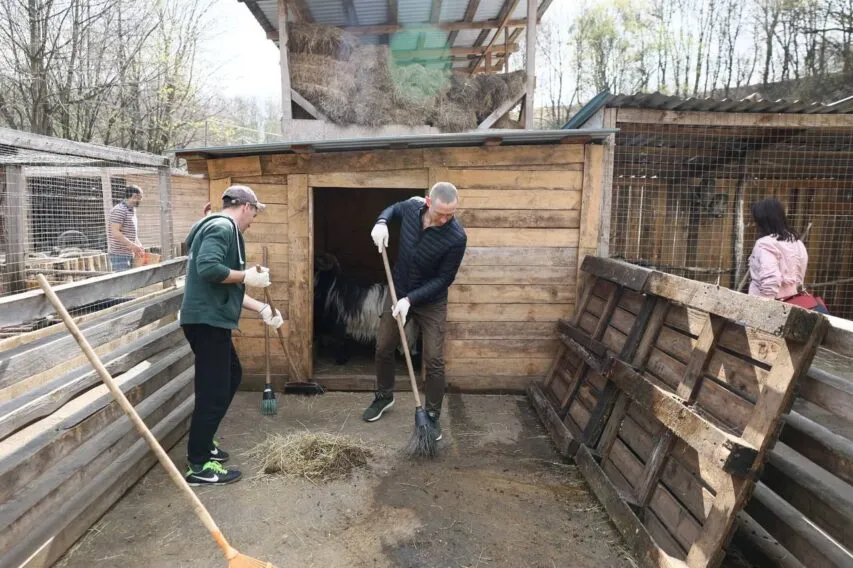 April 15, 2022, 15:17
The IDPs joined the citywide cleaning in Lviv before Easter
People who are fleeing the war, together with the residents of Lviv, cleaned the Rescued Animals Home today. This is the first joint toloka (communal work) in Lviv since the beginning of russia's full-scale war against Ukraine.
On April 15 and 16, communal works take place at about 50 locations in Lviv and in all communal educational institutions that have become temporary homes for Ukrainians.
«Citywide toloka in Lviv has a tradition of over 20 years. City council employees usually go outside and lead by their example to clean up the littered areas of the city. Toloka is a way to get together, get acquainted and spend time outdoors doing something absolutely useful. This year is a great opportunity for IDPs to get to know Lviv residents better by joining. Participants in each location mostly self-organize the informal part after cleaning – they can often drink tea together, eat cookies and chat. In our opinion, it unites people,» – head of the Department of Ecology and Natural Resources of the Lviv City Council Oleksandra Sladkova said.
In particular, Rescued Animals Home, which is part of «Znesinnya» regional landscape park, has been jointly cleaned.
«Today we are cleaning the area outside the cages. More than 20 people joined the cleaning and it is appreciated. We always have something to do, we invite volunteers to join,» – head of the Home Orest Zalypskyiy said.
In total, about 2,000 pets were hosted in the Rescued Animals Home throughout the war. Currently it hosts about 200 dogs and 150 cats.
City Hall reminds that anyone can join the cleaning. To do this and for suggestions on the nearest location to join toloka, please call the Department of Ecology and Natural Resources at +38 (032) 297-57-55. The consolidated map with all locations is not published for security reasons.
«If you know the littered areas, and you want to change it – take bags, gloves, pick up trash and take out the bags collected to the nearest street, put them in the nearest container yard, and if there is none – near the road and preferably inform the hot line. The carriers will be collecting garbage on Fridays and Saturdays,» – Ms. Sladkova added.