Back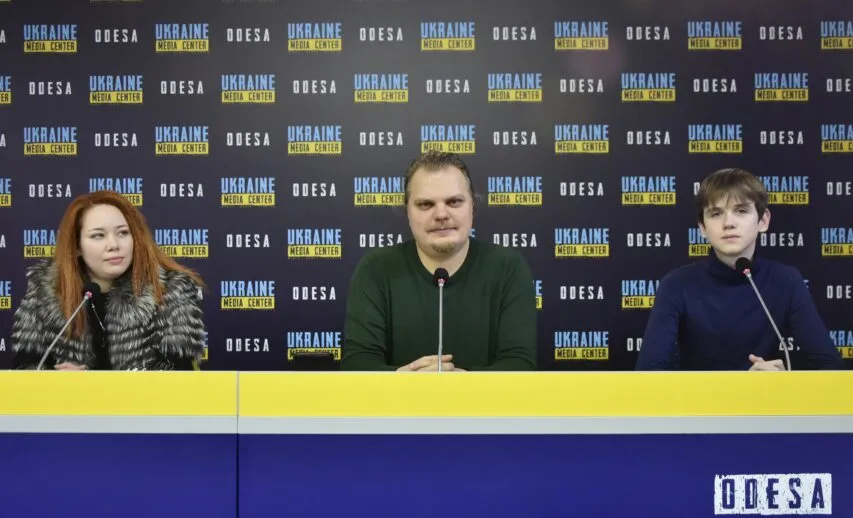 Media Center Ukraine – Odesa: Stasya Voloshina, choreography and combat director, actress; Yaroslav Trofimov, director, playwright, actor, author of the "City of Dreams" project of Theater No. 7; Pavlo Davydov, actor from Bakhmut
January 20, 2023, 12:49
The first immersive theater series will be shown in Odesa. It will also tell about a war
This is the "City of Dreams" project of Odessa Theater No. 7. Yaroslav Trofimov, director and playwright author of the project, said this during a briefing at the Media Center Odesa-Ukraine.
"City of Dreams" is the first immersive theater series in Ukraine. It is when a theatrical performance consists of many series that are connected by the same characters and one universe. The closest analogies are "Star Wars" or "Harry Potter," the artist said.
As he added, an immersive performance is when the audience is integrated into the story itself, is a participant in the performance.
"Immersive theater is a form of life that makes you a part of history," said Yaroslav Trofimov.
Shortly, Odessa's residents will see 3 performances of this series, each of them lasts about 4 hours. "On January 22, we will show the play "I see the future", on the 29th – "Cures of loneliness", on February 5 – "I. We. Mirror".
"We are currently rehearsing the fourth part, and we will show it at the end of February or the beginning of March. In total, we plan to make 10 episodes," Trofimov said.
As choreographer-director and actress Stasya Voloshina added, plastic will play a big role in the play.
"Plastics adds senses to characters and action. This expands the perception of the characters and the story itself," the actress added.
"War is present in our series, there is such a character as the "Invisible War". War continues, but some people don't want to notice her. And the play itself is about a change in world-view. And what will lead to escapism, trying to live in the past and accepting the general narrative "earlier to be better", Yaroslav Trofimov added.
Due to the small size of "Theater No. 7" space, a limited number of people will be able to watch the performances. "Our hall can accommodate up to 35 visitors. Therefore, those who want to see the performance should write me on the Facebook page," the artist added.
Read more: https://mediacenter.org.ua/news