Back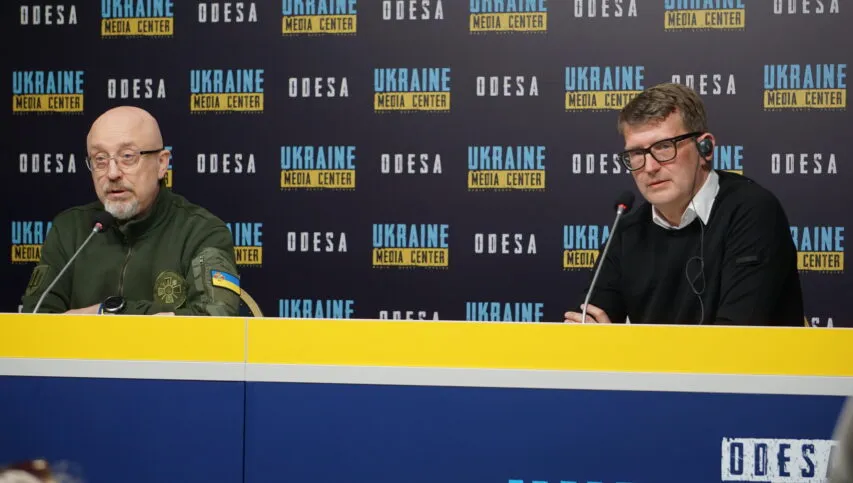 Photo by Media Center Ukraine – Odesa: Minister of Defense of Ukraine Oleksii Reznikov, Acting Minister of Defense of the Kingdom of Denmark Troels Lund Poulsen
April 10, 2023, 18:54
The Danish Caesar artillery systems and the first Leopard 1 tanks will arrive in Ukraine this summer – acting Minister of Defense of the Kingdom of Denmark
The trained crews will arrive in Ukraine with combat vehicles. It was announced at a joint briefing at Media Center Ukraine – Odesa by the Minister of Defense of Ukraine Oleksii Reznikov and the Acting Minister of Defense of the Kingdom of Denmark Troels Lund Poulsen by the representative of the Danish department.
"We hope we will deliver Caesar artillery systems to Ukraine next month. They are currently on training grounds in Denmark. Now about the Leopard 1 tanks.. Two months ago, Denmark signed an agreement with Germany. We hope we will start delivering the tanks by the summer. Looking ahead six months, it will be possible to deliver about 100 Leopard 1 tanks to Ukraine. And we will be able to discuss the delivering of Leopard 2. By the way, there are not so many tanks in Denmark. We will consider other possible ways of transmission," – Poulsen said.
He also added that it is important that Ukrainian specialists have the opportunity to maintain and repair these weapons before they arrive in Ukraine. We will work on this.
"Our gunners are already training to work on Caesar. Also, soon you will hear how tanks roar with a Danish accent in Ukraine", – the Minister of Defense of Ukraine Oleksii Reznikov noted.
He also offered foreign specialists who want to and are able to maintain this equipment, have the appropriate permits and access to documents, to come and work in Ukraine.
"It's about the pilots too. If there are pilots who know how to fly the F-16 and are ready to take part (in the war), the foreign legion is ready to open the door," – Oleksii Reznikov added.
Read more: https://mediacenter.org.ua/news