Back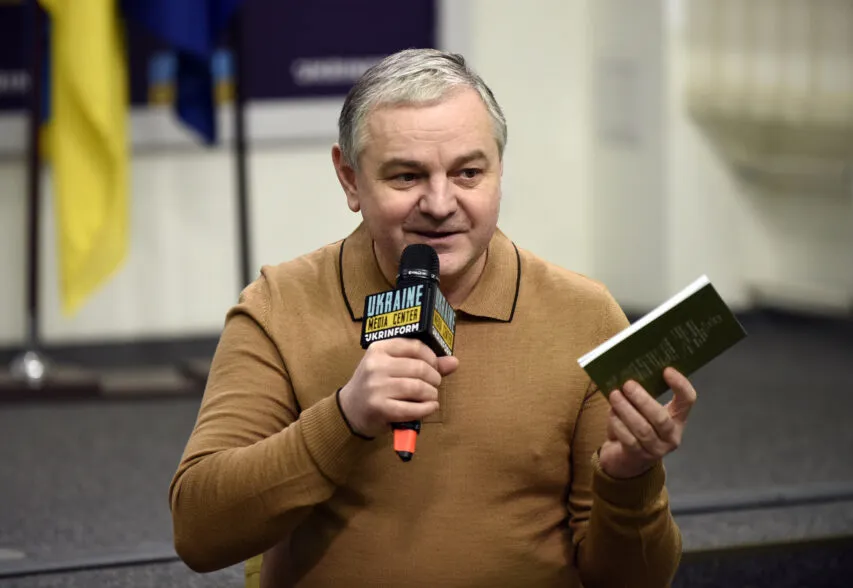 Ihor Kurus, Managing Director of the Ivan Franko International Fund, the author of the idea, Media Center Ukraine — Ukrinform
February 21, 2023, 15:25
The collection "Franko for the Front" contains words that inspire one to fight, and its size allows one to keep it in a fighter's pocket — Director of the Ivan Franko International Fund
Media Center Ukraine — Ukrinform hosted a presentation of the collection "Franko for the Front". The collection includes selected works that the author used to try to convey his vision of the role and place of a citizen in the state to Ukrainians and its participation in the development of Ukraine. It also contains some love poetry, fragments of Ivan Franko's humorous heritage, and works on faith and wisdom. All those present journalists had the opportunity to get a copy, and the other ones will be handed over directly to the defenders of Ukraine.
"Today, the world celebrates International Mother Language Day. It is symbolic of making it easier for Franko's words to pave the way to the frontline on that very day. So that our soldiers can turn to the word of Franko in a moment of silence when no rockets are flying, and no gunfire is heard. My colleagues once thought it would be nice to give our defenders a word. Because a word sometimes means a lot. A word sometimes inspires us to fight. Words sometimes work wonders. "Spirit which spurs flesh to endeavor, … fight for freedom, progress…" — I think these words are helpful in any situation," said Ihor Kurus, Managing Director of the Ivan Franko International Fund, the author of the idea
According to Mr. Kurus, this is how the idea was born — to create a booklet or collection containing the right thing to say that could inspire our boys and girls to fight and help them through a difficult time.
"Having a specific size, this collection fits perfectly into a fighter's pocket, which makes it available to read at any time. There is a silhouette of Franko consisting of his cryptonyms and pseudonyms on the back cover. I think this will be a cool thing to use for fighters when they choose a nickname. The idea of the book was to make it convenient, easy, and necessary. We really believe that this collection will get into the hands of those fighters who need it and will read it," the author of the idea noted.
Read more: https://mediacenter.org.ua/news