Back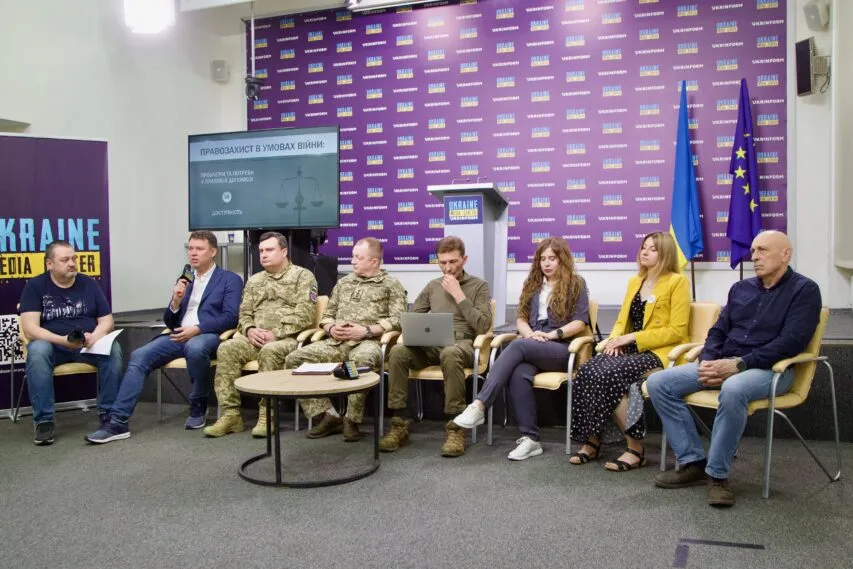 June 8, 2023, 15:30
The Armed Forces of Ukraine Territorial Defence Forces will provide free legal civil aid services in coordination with the state authorities
The professional lawyers and attorneys within the ranks of the Territorial Defence Forces will provide free civil legal aid and assistance in coordination with the state authorities, the public sector, and stakeholders. In particular, it is about providing both legal aid and legal awareness to the seeker living in areas close to hostilities and with the limited capacity of government agencies to provide these services.
This subject was addressed during a roundtable discussion entitled "Human Rights Protection during War: Challenges and Needs for Legal Aid VS Availability" at the Media Center Ukraine – Ukrinform.
"Therefore, it is assumed that legal aid will be provided by relevant specialists, including military personnel of certain categories and specialists, in effective cooperation with the free legal aid system representatives. It includes national and regional centers for legal aid.
Accordingly, we will cooperate with competent non-governmental and international organizations," explained Colonel Dmytro Borodavko, Deputy Chief of Staff of the Territorial Defense Forces.
He noted that the service members would provide legal aid through direct communication with those affected by the hostilities and cannot contact free legal aid centers. This will ensure that the basic legal needs of the population are met.
"The experts will study the needs of the population on the ground where there is no access to civilian sector specialists or lawyers. The application will be examined, systematized, and then further submitted to the relevant free legal aid centers specialists," added Borodavko.
Currently, a specific work algorithm is being developed and arranged for subsequent decision-making and the overall process approval.
In addition, Oleksandr Baranov, Director at the Coordination Centre for Legal Aid Provision, noted that the free legal aid system continues providing primary and secondary legal non-stop assistance. Thus, since the full-scale invasion, legal aid services have been provided for more than 15 months to people who are either in the 'gray zones', in the occupied and de-occupied territories.
"The number of challenges our clients face is enormous. During this time, we have provided more than 120 thousand legal secondary consultations and legal assistance. These are 112 thousand legal issue consultations and 8 thousand secondary legal aid services," he emphasized.
But, according to Oleksandr Baranov, the accessibility of legal aid services for people in the de-occupied and recently de-occupied territories, in the 'gray zones', is a big problem.
"We look forward to our further fruitful cooperation and development of the services provided by the free legal aid system in terms of accessibility," he added.
Currently, a specific work algorithm is being developed and arranged for subsequent decision-making and the overall process approval.
Read more: https://mediacenter.org.ua/news