Back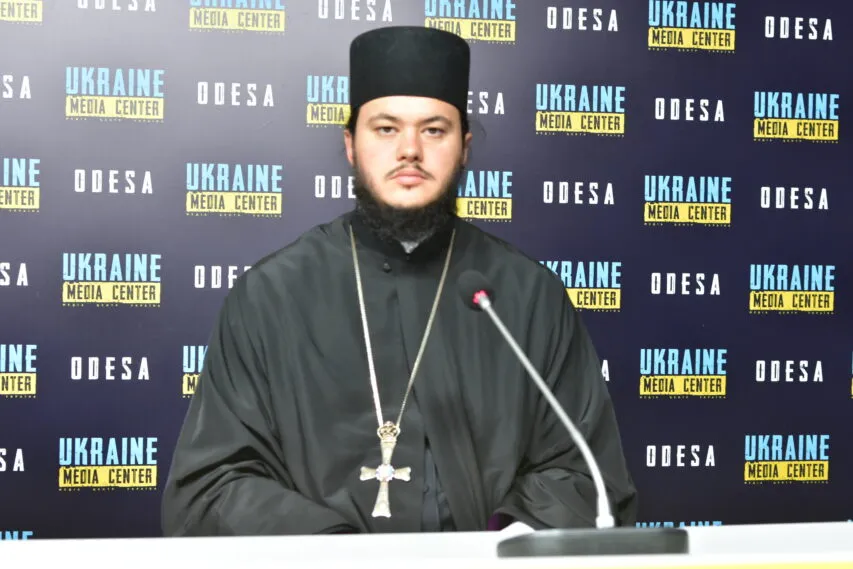 Photo by Media Center Ukraine – Odesa: Archpriest Maksymian Pogorelovsky of the Odesa Diocese of the Ukrainian Orthodox Church
July 25, 2023, 14:52
The altar of the Transfiguration Cathedral was destroyed by the russian attack – Archpriest Maximian Pogorelovsky
Most likely, the entire altar part will have to be demolished and rebuilt. Archpriest Maksymian Pogorelovsky of the Odesa Diocese of the Ukrainian Orthodox Church said this at a briefing at the Media Center Ukraine – Odesa.
"The cathedral is heavily damaged. The rocket hit the very heart of the church, the altar. It just disappeared. A one and a half meter high wall was demolished, the colonnade next to it was damaged. The altar part can collapse at any moment, most likely, it will have to be demolished. The rocket reached the two lower floors of the cathedral. The explosion also damaged the sacristy, where the priests' clothes, books, and icons were stored," – said the archpriest.
He added that the Iversk and Kasperov icons were not damaged, as well as the relics of St. Innocent and the sarcophagus with the ashes of the Vorontsov family. Now the main thing is to cover the roof of the cathedral to protect it from rain.
"The cross also survived, and we will have to restore its pedestal. But the icon of the Saviour, which was donated by Patriarch Kirill in 2010, has disappeared after the strike," – the priest said.
He noted that, in his opinion, the attacks on the architectural monuments were deliberate to "break the spirit of Odesa's residents and Ukrainians".
"But our people, on the contrary, united. This tragedy will go down in the history of the city, and Odesa's residents will not forgive this shelling. And this tragedy only gave them the strength to fight for victory," – Archpriest Maximian emphasized.
Read more: https://mediacenter.org.ua/news