Back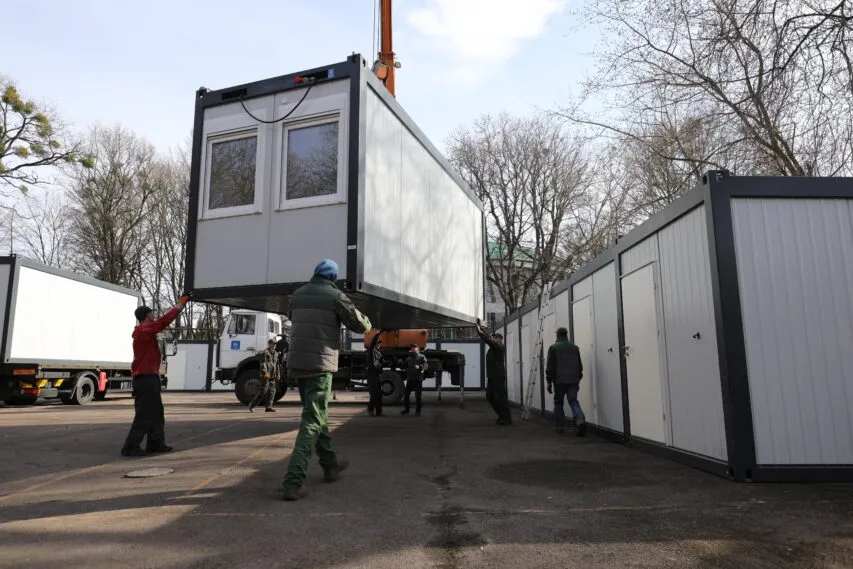 April 7, 2022, 16:48
Temporary modular towns are being set up in Lviv for Ukrainians fleeing the war
The town of 88 houses is being built on Ulas Samchuk Street near the Sensoteka Library. Approximately 350 people will live in this town. It is planned to deploy the modular town by the end of this week.
«We will provide security, cleaning, lighting – everything one needs for normal life and maintenance of such a town. The houses will be connected to all networks. We will start inhabiting it with people next week» –city mayor Andriy Sadovyi emphasized.
In total, the town near the park will have 11 bathrooms and 5 showers. There will be a separate canteen, medical center and even a shop. According to the chief architect of the city Anton Kolomeytsev, the town will function approximately until winter, and after the victory there will be a sports ground.
«Today we are obliged to help every Ukrainian who is in a difficult time. An even bigger wave of evacuations begins now, 3,000 people from Kramatorsk and Slavyansk arrived in Lviv this night and in the morning. In particular, a lot of students arrive, so we chose this location. It is the best one for their adaptation. After all, there is Ukrainian Catholic University (UCU) nearby, and they can feel the atmosphere there», – city mayor Andriy Sadovyi said.
According to the rector of UCU Fr. Bohdan Prach, it is important to help students.
«We, as a university, will be close, we will lend a hand to them in this difficult time for them. Maybe some of them will study at our university. It is very important for us that we all understand that we are responsible for each other. Now is the time not to shift the responsibility onto someone, not to wait for someone to come to the rescue. Thank you that the city is addressing issues that need to be addressed today», – Fr. Bohdan Prach noted.
These modular houses are the support from the Polish government with the assistance of the Ministry of Community and Territorial Development. In total, the government has promised to hand over a total of 300 modular houses to Lviv.