Back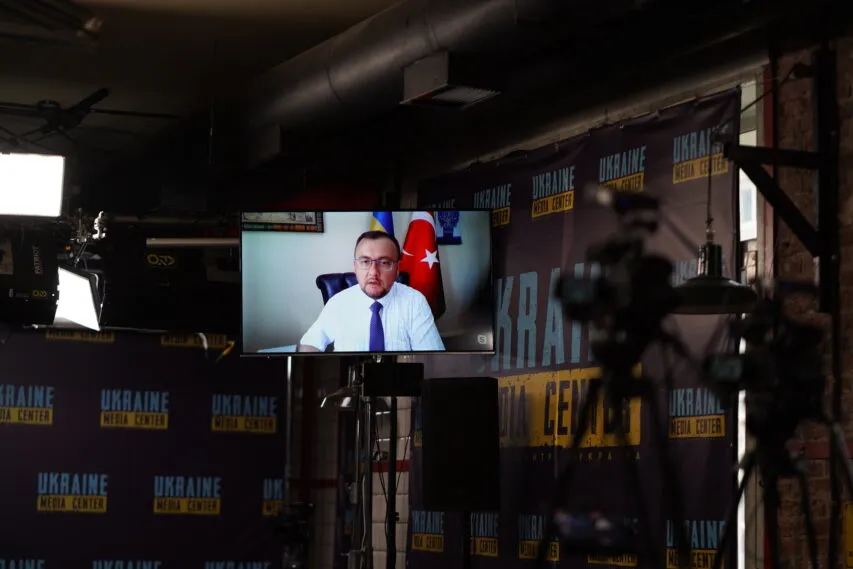 June 8, 2022, 16:26
Talks between Türkiye and russia on unblocking Ukrainian ports: there are no specific agreements and there can be none without Ukraine — Ambassador Extraordinary and Plenipotentiary of Ukraine to Türkiye
There are no specific agreements as the result of today's public talks between the Turkish and russian foreign ministers on the unblocking of Ukrainian ports. Such agreements cannot be made without Ukraine. This statement was made by Ambassador Extraordinary and Plenipotentiary of Ukraine to the Republic of Türkiye, Vasyl Bodnar during a briefing at Media Center Ukraine.
"The Turkish side has received information from the russian side about its position. And now we are waiting for communication between the Ukrainian and Turkish sides, in order to find common ground," — Vasyl Bodnar said.
The Ukrainian Ambassador to Türkiye reminded that a large part of the world is suffering due to the lack of Ukrainian grain in the markets. Meanwhile, russia is continuing the blockade of Ukrainian ports.
"The russian side, as usual, plays its stupid games, they are trying to get involved in escorting the vessels. They are trying to continue the blockade, to impose some of their unrealistic offers. I am absolutely sure that they will not succeed. The russians must withdraw and unblock these ports. Then it will be possible to say that we can demine the ports and allow ships to leave, so (we) could ensure our safety, first of all, and second of all, safely export grain," — Vasyl Bodnar said.
According to the Ambassador, it is in russia's interests not to let Ukrainian grain out of the country, but instead to sell more of its own, and to steal Ukrainian grain in the occupied territories.
As reported, russian Foreign Minister sergey lavrov and Turkish Foreign Minister Mevlut Cavusoglu met on June 8. Following the meeting, the Turkish Foreign Minister stated that the UN proposes to create a four-way mechanism involving the UN, russia, Ukraine and Turkey to export of grain and other agricultural products from the ports of Ukraine. If demining of ports is not possible, safe corridors must be organized.
Read more: https://mediacenter.org.ua/news