Back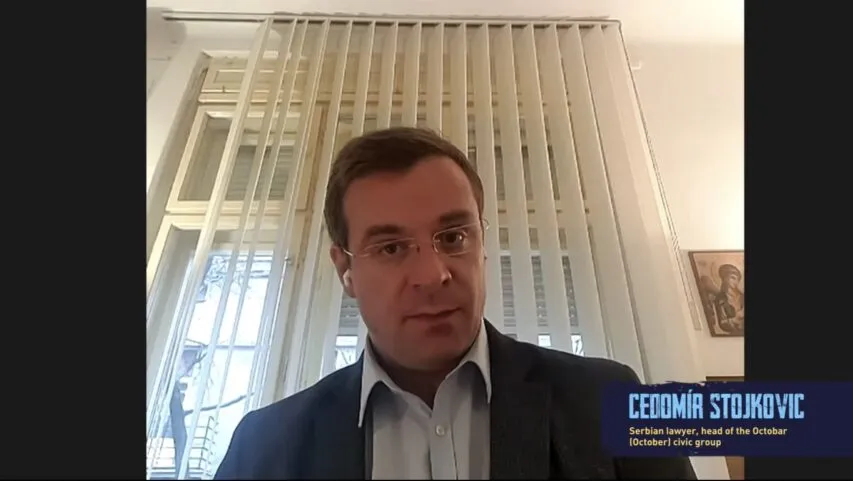 Photo by Media Center Ukraine – Odesa: Čedomír Stojković, Serbian lawyer, head of the Octobar (October) civic group
March 10, 2023, 16:10
"The statements of the President of Serbia about the persecution of PMC "Wagner" are not honest" – Serbian public activist
These statements may be agreements between President Aleksandar Vucic and Moscow. This opinion was expressed by Čedomír Stojković, Serbian lawyer, head of the Octobar civic group, during a briefing at the Media Center. Ukraine – Odesa.
"The President of Serbia, Aleksandar Vucic, said that every member of the "Wagner" PMC would be arrested after returning to Serbia. But I do not believe this statement. Because now the members of "Wagner" are in Serbia. Moreover, there are people who organize the transportation of Serbs to russia, so that they can then be sent to the front. And I don't see that any of these people were arrested, investigations were conducted on these issues," – Čedomír Stojković said.
As the lawyer noted, protests are currently taking place in Serbia against the prosecutor, who did not allow an investigation into the activities of PMC "Wagner".
"The President protects the prosecutor who did not allow the investigation against PMC "Wagner" to begin. I know the names of the people and organizers who are involved in the activities of this company, but I will not name them now. I am a civilian, I am not a state. The state should conduct an investigation," Stojkovich added.
Read more: https://mediacenter.org.ua/news