Back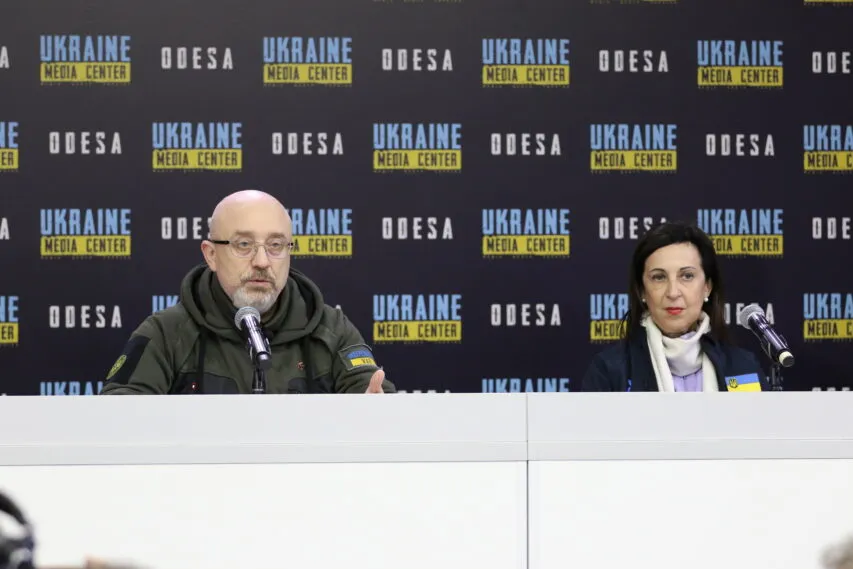 Фото Медіацентр Україна – Одеса: Міністр оборони України Олексій Резніков та міністр оборони Іспанії Маргарита РоблесPhoto by Media Center Ukraine – Odesa: Minister of Defense of Ukraine Oleksii Reznikov and the Minister of Defense of Spain Margarita Robles
December 1, 2022, 17:33
The Rammstein club supports our goal – the total liberation of Ukrainian territories – Oleksii Reznikov, Minister of Defense of Ukraine
The liberation of all country territories to the borders internationally recognized in 1991, said Defense Minister of Ukraine Oleksii Reznikov during a joint briefing of the defense ministers of Spain and Ukraine at the Media Center Ukraine-Odesa.
"Ukraine's position is clear and consistent – russia started a war in 2014. And in 2022 there was a transition from a hybrid war to a full-scale invasion. The task of Ukraine today is the total liberation of the lands up to the internationally recognized borders of 1991, and we will pursue such a policy until the total deoccupation," said Oleksii Reznikov.
As the Minister of Defense of Ukraine noted, at the level of the conditional Rammstein club, this position is fully supported by the defense ministers of the partner countries. "Ukraine has a full understanding of its policy from the her partner countries. Ministers tell me: Oleksii, we will be with you until the end whatever it costs us," – added Oleksii Reznikov.
As the Minister of Defense of Spain Margarita Robles added, today she and Oleksii Reznikov discussed the support of Ukraine from the Spanish-speaking countries on the American continent. "Spain understands that no country can stand aside during this war. And Spain, with its connections, can do everything to ensure that Ukraine receives support from South American countries," said Margarita Robles.
Read more: https://mediacenter.org.ua/news