Back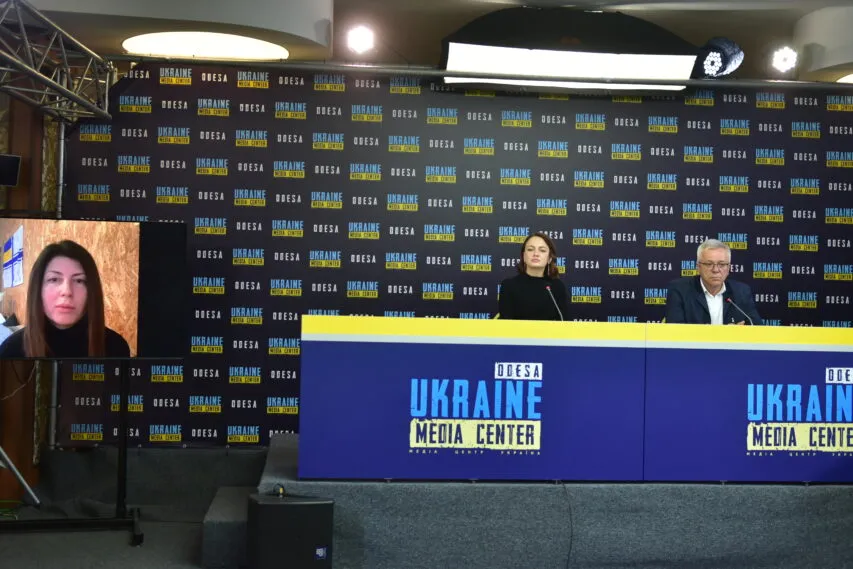 Photo by Media Center Ukraine – Odesa: Kateryna Nozhevnikova, volunteer, founder of the charity foundation "Corporatsia Monstriv" (Monsters Corporation); Karina Efremova, IDP from Kramatorsk, organizer of cultural events; Oleksandr Ostapenko, veteran of the Armed Forces of Ukraine;
February 24, 2023, 15:13
The Odesa Charitable Fund spent 5 million USD on military aid for the year – head of the charitable foundation
Since the beginning of the full-scale invasion, many Ukrainians have become volunteers – and this is a fantastic phenomenon. This opinion was expressed by Kateryna Nozhevnikova, head of the "Korporatsia monstriv"(Monsters Corporation) charitable foundation, during a briefing at the Media Center Ukraine – Odesa dedicated to the anniversary of the full-scale invasion of the russian federation into Ukraine.
"The number of people helping the military and displaced persons is really a phenomenon that will be studied further. A very large number of people appeared in the volunteer movement, this is an incredible phenomenon. And now almost every volunteer sees the sense of his life – as doing everything to help the country stand firm," Nozhevnikova added.
She also noted that her charitable foundation helped children, the elderly, and hospitals before the full-scale invasion. "We were thinking of continuing to work like this, but after 2–3 days we received a request for help from a military unit. And now 90% of the fund's work is assistance to the Armed Forces. The fund spent 5 milion dollars (200 million hryvnias) on their needs in 10–11 months. These are colossal funds that ordinary people took away from themselves. Because if we don't help the army, then no one will help," the volunteer said.
The importance of the volunteer movement in providing the armed forces was also emphasized by Oleksandr Ostapenko, a veteran of the Armed Forces. As he noted, when his unit departed from Odesa region to Kherson region, soldiers were equipped with small arms and mobile phones only.
"Thanks to the volunteers, we had Motorola radio stations in the required number, 15 Starlinks, 25 SUVs, modern weapons, including Italian and American ones when we returned for vacation. And these were radical changes that instilled confidence in the staff," the veteran noted.
He also noted the changes in the self-awareness of Ukrainians after the full-scale invasion. "There was an incredible growth of identity, when people felt they were Ukrainians and felt the duty to protect the homeland. What was missing appeared in people's mass consciousness – an understanding of the need for state sovereignty and independence," Oleksandr Ostapenko added.
Karina Efremova, an IDP from Kramatorsk, who organized intellectual games in Kramatorsk and Slovyansk and now does it in Odesa, also mentioned the solidarity and desire to help.
"It's almost been a year since I've been in Odesa, and I'm very grateful to the people and volunteers who helped us. You could say we got lucky, but I disagree. There were many such coincidences, when good people helped us, gave us opportunities and then became friends. I see the unity of people in this, and I see it every day," Karina Efremova added.
Read more: https://mediacenter.org.ua/news