Back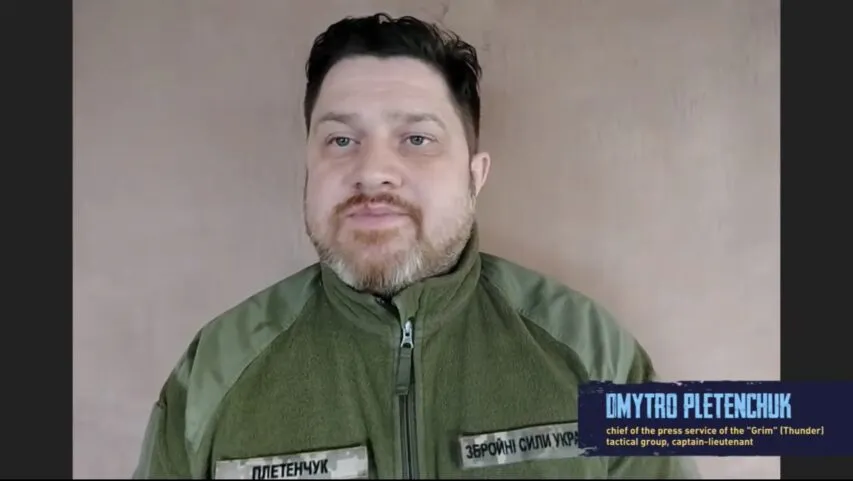 Photo by Media Center Ukraine – Odesa: Dmytro Pletenchuk, chief of the press service of the "Grim" (Thunder) tactical group, captain-lieutenant
March 21, 2023, 12:24
The occupiers aimed their shelling on the residential areas of the city – the defense forces of Kherson
First of all, the Kherson agglomeration suffers. Dmytro Pletenchuk, chief of the press service of the "Grim" (Thunder) tactical group, told about this at a briefing at the Ukraine-Odesa Media Center.
"The settlements around Kherson get the most shelling. The occupiers are simply hitting around the districts. The private sector of Kherson also suffers the most. If earlier in Kherson the occupiers shelled high-rise buildings, now they focused on the private houses. Because the population density is higher there – these people stay in their homes and are not going to go anywhere," – Pletenchuk said.
The officer also added that on the left bank, the russians resort to provocations and shell the occupied settlements.
"They are trying to find out which district is the least loyal to the occupation authorities, and it is in these micro-districts they try to carry out their provocations. For example, Oleshki. And these areas periodically suffer from russian shelling. For this, they use mortars, because at such a distance it is quite difficult to detect where the fire came from," – the officer said.
Dmytro Pletenchuk also added that now the main task of the Armed Forces of Ukraine is to prevent shelling of Kherson and the death of civilians.
"The 406th independent artillery brigade named after Major-General Oleksii Almazov works around the clock, like other units. Judging by the way we are inflicting fire damage, we are even ahead of Mykolaiv Oblast, which for 9.5 months was actually on the conflict line. Thanks to this work, we reduced the rate of shelling," – the officer said.
He also added that the 406th brigade successfully uses M777 artillery systems.
"Our enemies on the left bank felt what accurate artillery fire is," – Pletenchuk noted.
Read more: https://mediacenter.org.ua/news